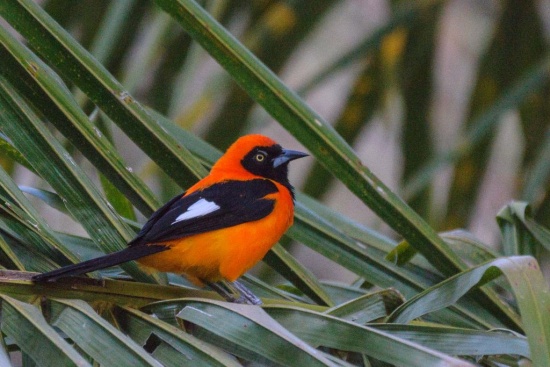 Icterus croconotus
Identification
23 cm (9 in)
Orange crown, nape and back
Blue skin round the yellow eye
Black wings and tail
White wing flash

Juvenile has the orange areas cold yellow or yellowish-green.
Distribution
Guyana, Brazil, Peru, Bolivia, and northern Argentina. Restall1 does not describe it from Suriname or French Guiana but has question-marks in the nearest parts of Brazil in the range maps.
Taxonomy
Previously considered a subspecies of the Venezuelan Troupial (Icterus icterus), it is now a full species: Icterus croconotus and has 2 races23.
Subspecies
There are 2 subspecies[3]
Habitat
Forest edge and open woodland, mostly near rivers and lakes, also in clearings and secondary woodland.
Behaviour
Diet
Their diet consists of nectar, fruit and insects and small invertebrates.
Breeding
A pirate that takes over nests from other species of birds.
They are believed to be monogamous and solitary breeders.
References
Restall et al. 2006. Birds of Northern South America. Yale University Press. ISBN 9780300124156
SACC discussion accepting the split into three forms.
Clements, J. F., T. S. Schulenberg, M. J. Iliff, D. Roberson, T. A. Fredericks, B. L. Sullivan, and C. L. Wood. 2017. The eBird/Clements checklist of birds of the world: v2017, with updates to August 2017. Downloaded from http://www.birds.cornell.edu/clementschecklist/download/
Handbook of the Birds of the World Alive (retrieved Dec 2017)
Recommended Citation
External Links