Alternative names: Bengal Pitta; Blue-winged Pitta; Green-winged Pitta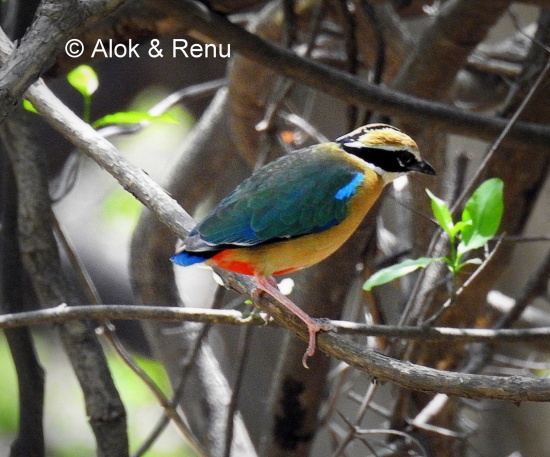 Pitta brachyura
Identification
18cm (7 in)
Buff crown
Thick black eye stripe
White throat and neck
Green upperparts
Blue rump, black tail with blue tip
Large glossy blue patch on lesser wing-coverts
Buff underparts with bright red on lower belly
Buff legs
Sexes are similar, but young birds are duller than the adult.
Similar species
Differs from similar Fairy Pitta in smaller size, head pattern, darker underparts and less extensive red below.
Distribution
Breeds in northeast Pakistan, in the foothills of the Himalayas of India, Nepal and Bhutan and in north and central India. Has probably bred in Bangladesh.
Winters in southern India and Sri Lanka.
Locally fairly common.
Taxonomy
This is a monotypic species[1].
It forms a superspecies with Fairy Pitta, Blue-winged Pitta and Elegant Pitta and has been considered conspecific with the first two.
Habitat
Found in dense undergrowth of deciduous and evergreen forest, in scrub, bamboo jungle or sal forest. Recorded up to 1700m in India.
Behaviour
Diet
Feeds on insects, larvae, earthworms, small snails and millipedes.
Forages on the ground, tossing aside leaves and digging with its bill in the wet soil.
Breeding
Breeding season from May to August. The nest is shaped like a rugby football and made of twigs, bamboo leaves, grass, moss and roots. It's placed 3-4m (sometimes more) above the ground in a tree, sometimes also on the ground. Lays 4-6 eggs.
References
Clements, J. F., T. S. Schulenberg, M. J. Iliff, D. Roberson, T. A. Fredericks, B. L. Sullivan, and C. L. Wood. 2017. The eBird/Clements checklist of birds of the world: v2017, with updates to August 2017. Downloaded from http://www.birds.cornell.edu/clementschecklist/download/
Dickinson, EC, ed. 2003. The Howard and Moore Complete Checklist of the Birds of the World. 3rd ed., with updates to October 2008 (Corrigenda 8). Princeton: Princeton Univ. Press. ISBN 978-0691117010
Gill, F and D Donsker (Eds). 2010. IOC World Bird Names (version 2.7). Available at http://www.worldbirdnames.org/.
Del Hoyo, J, A Elliot, and D Christie, eds. 2003. Handbook of the Birds of the World. Volume 8: Broadbills to Tapaculos. Barcelona: Lynx Edicions. ISBN 978-8487334504
Recommended Citation
External Links