Alternative names: White-throated Munia, White-throated Silverbill or Warbling Silverbill as well as Euodice malabarica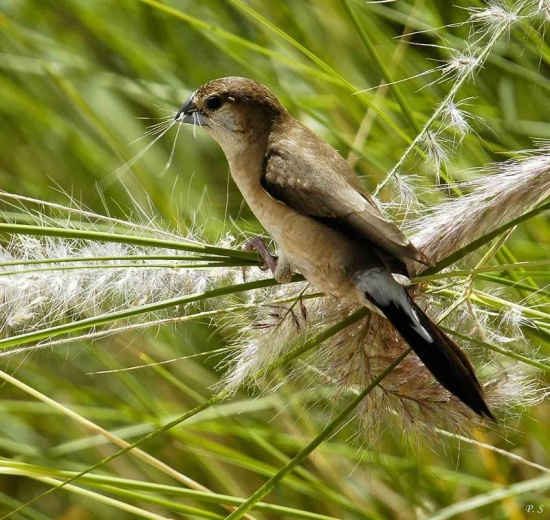 Euodice malabarica
Lonchura malabarica
Identification
11 cm long (4¼ in)
Creamy underside with darker upperside, often displaying dark to black primaries along the lower edge of the folded wing, as well as a dark tail that is often somewhat pointed.
White rump is sometimes visible on the sitting bird, and always visible in flight.
Bill has a dark, curved, upper mandible while the lower mandible is lighter often reflecting.
Similar Species
This species is very similar to African Silverbill (Lonchura cantans) but differ in showing a white rump (dark in the African species).
Distribution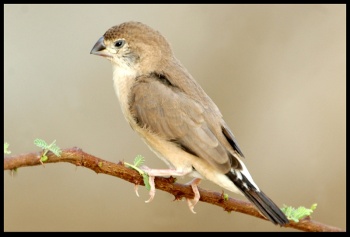 Native distribution seems to have been from the Arabian Peninsula through Iran, to India, Sri Lanka, Nepal, and Sikkim.
Populations in Israel and Jordan may have its origin in escaped cage birds, and the same is the case for southern France (e.g., Nice) where the species is considered established, and in Portugal.
Taxonomy
This is a monotypic species, which is sometimes placed in genus Lonchura[1]. This taxon has previously been considered conspecific with African Silverbill.
Habitat
Dry open country and cultivated areas, towns and villages.
Behaviour
Diet
The diet includes seeds, especially grass seeds, also sedge, millet and rice. They also eat some small insects.
Breeding
The nest is a large domed grass structure in a tree. The clutch contains of 4–10 white eggs. They breed throughout the year, often coinciding with the start of the rains.
References
Clements, J. F., T. S. Schulenberg, M. J. Iliff, D. Roberson, T. A. Fredericks, B. L. Sullivan, and C. L. Wood. 2018. The eBird/Clements checklist of birds of the world: v2018. Downloaded from http://www.birds.cornell.edu/clementschecklist/download/
Avibase
Handbook of the Birds of the World Alive (retrieved May 2018)
Wikipedia
Recommended Citation
External Links