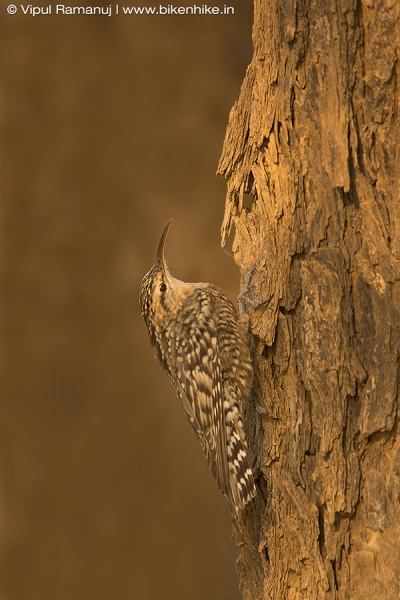 Salpornis spilonota
Identification
Its plumage is strongly spotted and barred and it has a thin pointed down-curved bill, which it uses to extricate insects from bark; it lacks the stiff tail feathers which the true treecreepers use to support themselves on vertical trees.
Distribution
Northern India (eastern Rajasthan and Gujarat east to Bihar).
Taxonomy
This is a monotypic species[1].
Some authorities accept two subspecies[2]:
Central and western India
It was formerly included in Spotted Creeper.
Habitat
Open deciduous forest and woodlands and mangrove swamps.
Behaviour
Breeding
Nests in tree crevices.
References
Clements, J. F., T. S. Schulenberg, M. J. Iliff, D. Roberson, T. A. Fredericks, B. L. Sullivan, and C. L. Wood. 2015. The eBird/Clements checklist of birds of the world: v2015, with updates to August 2015. Downloaded from http://www.birds.cornell.edu/clementschecklist/download/
Avibase
Birdforum thread discussing the potential split of this species
Recommended Citation
External Links