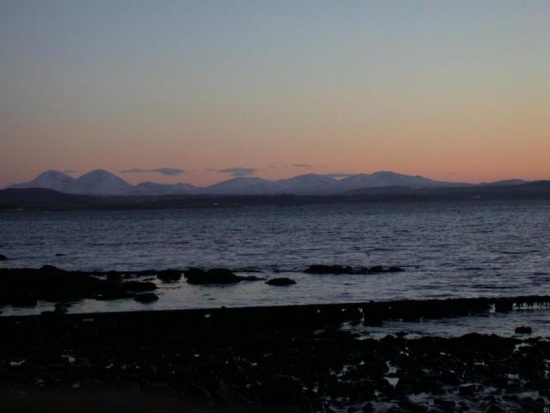 Overview
Although it is world famous for its wintering Barnacle Goose and Greenland White-fronted Goose the Scottish island of Islay has a variety of habitats attracting a wide range of breeding passage and wintering birds.
There are extensive upland areas but no real mountains with few points exceeding 300m. Numerous lochs and smaller lochans dot the landscape and the north-western moorland peninsula known as the Rhinns is almost cut off from the rest of the island by two large sea-lochs, Loch Gruinart in the north and Loch Indaal in the south. In the far south-west of Islay are the spectacular cliffs of The Oa but most of the island's coastline consists of rocky, shingle or sandy beaches.
Most of the island is lowland pasture and moorland but there are also peatbogs and areas of conifer plantations, scrub and mixed woodland. The ferry crossing to Islay can provide excellent seawatching.
Birds
Notable Species
Breeding species include Northern Lapwing, Common Snipe and Common Redshank with Common Teal, Mallard, Common Eider and Common Shelduck nesting on the loch shore. Moorland breeders include Eurasian Curlew, Red Grouse and Black Grouse.
Undoubtedly the most important bird at Loch Gruinart is the Barnacle Goose. This is the premier site for the species in Britain and up to 20,000 winter in this area, the majority of the Greenland breeding population. They are present on Islay during October-April.
Also present in winter are good numbers of White-fronted Goose, also from Greenland, as well as Whooper Swan and more than 1,000 Greater Scaup winter at Loch Indaal. Raptors include Hen Harrier, Common Buzzard, Peregrine Falcon and Merlin with Short-eared Owl usually present.
A range of waders winter on the loch shore or pass through on migration.
Rarities
Glaucous Gull and Iceland Gull are both regular on Islay particularly on Loch Indaal and sometimes in Port Ellen harbour. Vagrants recorded on Islay include Yellow-billed Diver, King Eider and Harlequin Duck from the north, Cory's Shearwater and Macaronesian Shearwater from more southerly oceans and Blue-winged Teal and Ring-necked Duck from North America.
Specimens resembling the small races of Canada Goose are seen in most years, these are generally considered to be genuine transatlantic vagrants and Red-breasted Goose has been recorded.
Nearctic waders have occurred including Long-billed Dowitcher, Greater Yellowlegs and Buff-breasted Sandpiper, Pectoral Sandpiper and Baird's Sandpiper.
Check-list
Birds you can see here include:
Red-throated Diver, Black-throated Diver, Great Northern Diver, Little Grebe, Slavonian Grebe, Northern Fulmar, Sooty Shearwater, Manx Shearwater, European Storm-petrel, Northern Gannet, Great Cormorant, Shag, Grey Heron, Mute Swan, Whooper Swan, Pink-footed Goose, Greater White-fronted Goose, Greylag Goose, Canada Goose, Barnacle Goose, Pale-bellied Brent Goose, Common Shelduck, Eurasian Wigeon, Gadwall, Common Teal, Mallard, Northern Pintail, Northern Shoveler, Common Pochard, Tufted Duck, Greater Scaup, Common Eider, Long-tailed Duck, Common Scoter, Common Goldeneye, Red-breasted Merganser, Goosander, Hen Harrier, Eurasian Sparrowhawk, Common Buzzard, Golden Eagle, Common Kestrel, Merlin, Peregrine Falcon, Red Grouse, Black Grouse, Common Pheasant, Water Rail, Moorhen, Eurasian Coot, Oystercatcher, Ringed Plover, Golden Plover, Grey Plover, Northern Lapwing, Red Knot, Sanderling, Little Stint, Curlew Sandpiper, Purple Sandpiper, Dunlin, (arctica-PM), (alpina-W), Ruff, Jack Snipe, Common Snipe, Woodcock, Black-tailed Godwit, Bar-tailed Godwit, Whimbrel, Eurasian Curlew, Common Redshank, Greenshank, Common Sandpiper, Turnstone, Arctic Skua, Great Skua, Black-headed Gull, Common Gull, Lesser Black-backed Gull, Herring Gull, Iceland Gull, Glaucous Gull, Great Black-backed Gull, Kittiwake, Common Tern, Arctic Tern, Little Tern, Common Guillemot, Razorbill, Black Guillemot, Atlantic Puffin, Rock Dove Feral Pigeon, Wood Pigeon, Collared Dove, Turtle Dove, Common Cuckoo, Barn Owl, Tawny Owl, Long-eared Owl, Short-eared Owl, Common Swift, Eurasian Skylark, Sand Martin, Barn Swallow, House Martin, Tree Pipit, Meadow Pipit, Rock Pipit, Grey Wagtail, Pied Wagtail, Common Wren, Dunnock, Eurasian Robin, Whinchat, Stonechat, Northern Wheatear, Blackbird, Fieldfare, Song Thrush, Redwing, Mistle Thrush, Common Grasshopper Warbler, Sedge Warbler, Common Whitethroat, Blackcap, Wood Warbler, Common Chiffchaff, Willow Warbler, Goldcrest, Spotted Flycatcher, Long-tailed Tit, Coal Tit, Blue Tit, Great Tit, Common Treecreeper, Red-billed Chough, Jackdaw, Rook, Hooded Crow, Northern Raven, Common Starling, House Sparrow, Chaffinch, Brambling, Greenfinch, Goldfinch, Siskin, Linnet, Twite, Lesser Redpoll, Common Bullfinch, Snow Bunting, Yellowhammer, Reed Bunting
Other Wildlife
Grey Seal Halichoerus grypus and Common Seal Phoca vitulina, and Otter Lutra lutra are frequently seen around the coast and Red Deer Cervus elaphus and Roe Deer Capreolus capreolus are common on the island.
There is a thriving population of Wild Goat on the Oa Peninsula and elsewhere.
Site Information
Islay provides excellent year-round birding with the peak in diversity in September-October and March-April.
Areas of Interest
Loch Gruinart
The entire island is good for birds but there are several areas the birding visitor to Islay should not miss. Loch Gruinart RSPB Reserve lies on the north-west coast of Islay and the reserve covers the west and south shores of the tidal loch and adjacent areas. Map
As well as the saltmarsh at the head of the loch the reserve contains rough pastureland, moors with patches of woodland and hill lochans. The importance of this area is reflected in its designation as a Ramsar Site and Site of Special Scientific Interest.
Much of the Loch Gruinart reserve can be viewed from the B8017 road which crosses the area and the loch shore can be seen well from the road to Ardnave which follows the western side of the loch. Nearby Ardnave Loch is worth checking for waders and freshwater birds.
Loch Indaal
Loch Indaal lies to the south of the Loch Gruinart Reserve and there is a vast area of intertidal mudflats here attracting a wide variety of waders and waterfowl and this is also an important area for Barnacle Goose.
Divers, grebes and various seaduck can be seen on Loch Indaal and good viewing points can be found at Bowmore Pier on the eastern side and Bruichladdich Pier to the west.
The small woodlands and fields at Bridgend at the head of Loch Indaal are good for species such as Eurasian Sparrowhawk and Tawny Owl. Map
Rubha na Faing
The westernmost point of the island, Rubha na Faing, on the south-west of the Rhinns peninsula close to Frenchman's Rocks, is becoming a popular seawatching spot with birding visitors to Islay. April-May and August- September are the best times and birds such as Manx Shearwater and Sooty Shearwater, European Storm-petrel, Northern Fulmar, Northern Gannet and skuas are regular. Divers and seaduck can also be seen in good numbers.
The area is reached via the track to Claddich, less than 1km north of Portnahaven. Black Grouse may be seen on the moorlands of the southern Rhinns although it is now very rare and Corn Crake can often be heard.. Map
Saligo Bay
In the north of the Rhinns the cliffs and moorland between Saligo Bay and Sanaigmore have Golden Eagle, Common Buzzard and Hen Harrier, Peregrine Falcon, Merlin and Common Kestrel as well as Red Grouse, Red-billed Chough and Northern Raven. Map
The Oa
A similar suite of species can be seen on The Oa, a peninsula in the south-west of Islay with 130m cliffs. The cliffs here have seabird colonies with Common Guillemot and Black Guillemot,Razorbill, Kittiwake, Northern Fulmar and Shag. Almost half of this peninsula has now become the Kinnabus RSPB Reserve. Map
Access and Facilities
Accommodation is plentiful and varied enough to suit most pockets.
There is a twice-daily (once on Sundays) ferry service from Kennacraig, 11km west of Tarbert. On Islay the ferries dock at Port Askaig in the north or Port Ellen in the south.
Alternatively, there are flights from Glasgow, twice-daily and once on Saturdays.
External Links
Content and images originally posted by Steve