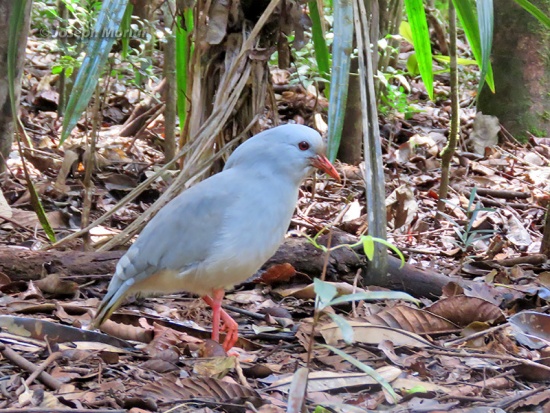 Rhynochetos jubatus
Identification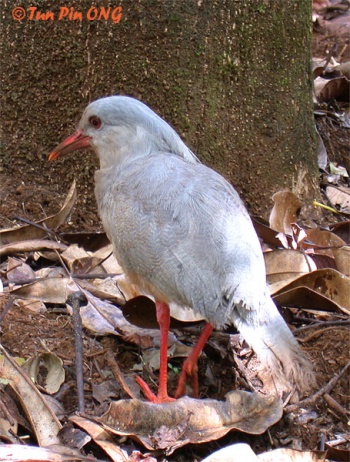 55 cm (21¾ in ) Flightless, but wings appear full-sized.
Overall ash-grey and white plumage.
Slightly darker mantle, wings and tail.
Strong dark and white barring on spread wing.
Contrasting orange-red bill and legs.
Long wispy crest.
Brownish hair like feathers over its nostrils.
Sexes are similar. Juveniles are faintly barred with duller orange bill and legs.
Distribution
Endemic to Grande Terre, New Caledonia.
Taxonomy
A unique species in its own family, Rhynochetidae. Now included with the Sunbittern of Middle and South America in the order Eurypygiformes.
Subspecies
None. This is a monotypic species[1].
Habitat
Primarily native forest, occasionally damper and taller shrubland. Occurs from sea-level up to mountain summits.
Behaviour
Actions
Flightless but flaps wings when climbing steep slopes and often roosts on understory branches. Spreads wings and raises crest in display.
Diet
Includes a wide variety of soil and leaf-litter prey, especially millipedes, snails, beetles, lizards and worms.
Breeding
It builds a ground nest of sticks, laying 1 egg.
Vocalisation
They have a loud territorial duet that carries up to 1 km every morning. The male also produces series of very soft, deep notes.
Movements
Established pairs are usually sedentary. There is some overlap of foraging areas between pairs, but otherwise they are territorial.
References
Clements, J. F., T. S. Schulenberg, M. J. Iliff, S. M. Billerman, T. A. Fredericks, B. L. Sullivan, and C. L. Wood. 2019. The eBird/Clements Checklist of Birds of the World: v2019. Downloaded from http://www.birds.cornell.edu/clementschecklist/download/
BirdLife International 2016. Rhynochetos jubatus. The IUCN Red List of Threatened Species 2016: e.T22692211A93341677. http://dx.doi.org/10.2305/IUCN.UK.2016-3.RLTS.T22692211A93341677.en. Downloaded on 02 December 2019.
Dutson, G. (2011) Birds of Melanesia, Christopher Helm, London.
Hunt, G. R.; Hay, R.; Veltman, C. J. 1996. Multiple Kagu Rhynochetos jubatus deaths caused by dog attacks at a high-altitude study site on Pic Ningua, New Caledonia. Bird Conservation International 6: 295-306.
Hunt, G.R., Kirwan, G.M. & Sharpe, C.J. (2019). Kagu (Rhynochetos jubatus). In: del Hoyo, J., Elliott, A., Sargatal, J., Christie, D.A. & de Juana, E. (eds.). Handbook of the Birds of the World Alive. Lynx Edicions, Barcelona. (retrieved from https://www.hbw.com/node/53708 on 2 December 2019).
Recommended Citation
External Links