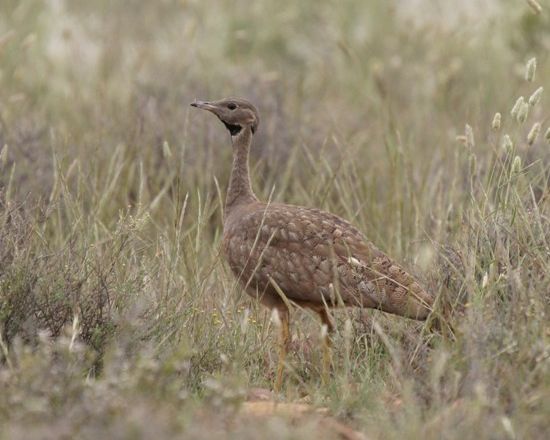 Alternative name: Karoo Korhaan
Eupodotis vigorsii

Heterotetrax vigorsii
Identification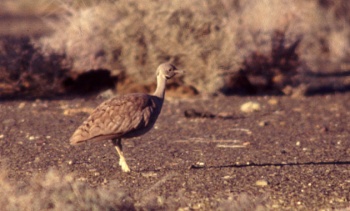 Length 56-60 cm (22-23¾ in); mass 1.6 kg (males), 1.35 kg (females).
A grey-brown bustard with a black throat and black patch on the nape.
In flight, wings show a black-and-buff pattern.
Similar species
Rueppell's Bustard is whiter below, paler above, and has a blue-grey neck.
Distribution
Africa: found in Lesotho, southern Namibia and South Africa.
Taxonomy
Subspecies
There are 2 subspecies1:
Habitat
Mainly stony Karoo shrublands.
Behaviour
Diet
Usually seen in pairs or small groups. Forages for invertebrates, reptiles, grass and seeds while walking.
Breeding
Monogamous; cooperative breeding may occur. The nest is a shallow scrape, usually in stony ground with scattered rocks or small shrubs. A single egg is laid June to February. Incubated by the female; after hatching, chick and parents forage together.
References
Clements, J. F., T. S. Schulenberg, M. J. Iliff, D. Roberson, T. A. Fredericks, B. L. Sullivan, and C. L. Wood. 2018. The eBird/Clements checklist of birds of the world: v2018. Downloaded from http://www.birds.cornell.edu/clementschecklist/download/
Hockey, PAR, WRJ Dean, and PG Ryan, eds. 2005. Roberts' Birds of Southern Africa. 7th ed. Cape Town: John Voelcker Bird Book Fund. ISBN 978-0620340533
Recommended Citation
External Links