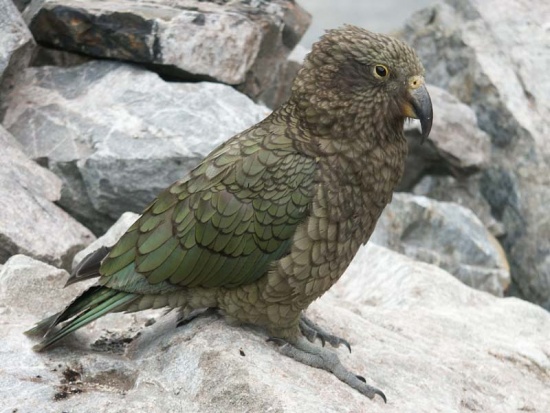 Nestor notabilis
Identification
46cm (19 in)
Olive green, scarlet rump and underwings. Feathers have dark edges.
The male's upper mandible is longer than the female's. Cere, eye and legs are dark brown.
Juveniles have a pale crown, yellow eye-ring and cere.
Distribution
South Island, New Zealand.
This is a species of conservation concern, due to their restricted range[3].
Taxonomy
This is a monotypic species[1].
Habitat
Mountain and forest.
Behaviour
The Kea parrot is known for demolishing parked cars.
Diet
They have a seasonal diet, eating mountain flax flowers, and other trees and shrubs in January, and snow totara berries until snow fall. Additionally, they will eat a variety of berries, carrion and also scavenge around rubbish dumps.
They were even believed to have attacked and killed sheep in the past and were persecuted and killed for over 100 years.
Breeding
They lay 2-4 eggs in crevices under rocks or tree roots. Incubation lasts 3-4 weeks, with the young fledging after 13 weeks.
In Culture
Affectionately called "the clown of the mountains".
References
Clements, J. F., T. S. Schulenberg, M. J. Iliff, S. M. Billerman, T. A. Fredericks, B. L. Sullivan, and C. L. Wood. 2019. The eBird/Clements Checklist of Birds of the World: v2019. Downloaded from http://www.birds.cornell.edu/clementschecklist/download/
BirdForum member observations
Collar, N., E. de Juana, P. F. D. Boesman, and C.J. Sharpe (2020). Kea (Nestor notabilis), version 1.0. In Birds of the World (J. del Hoyo, A. Elliott, J. Sargatal, D. A. Christie, and E. de Juana, Editors). Cornell Lab of Ornithology, Ithaca, NY, USA. https://doi.org/10.2173/bow.kea1.01
Recommended Citation
External Links