Alternative name: Sulphur-breasted Toucan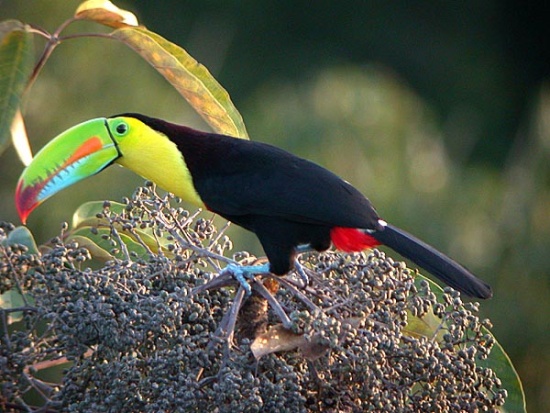 Ramphastos sulfuratus
Identification
Huge brightly colored bill. Black body with bright yellow front, white rump, brilliant red undertail coverts, and blue feet.
Distribution
Southern Mexico to northern Colombia and north-west most Venezuela.
Taxonomy
Two subspecies are recognized:
R. sulfuratus
R. brevicarinatus
Habitat
Tropical, subtropical, and lowland rainforests.
Behaviour
They nest in holes in trees. 1-4 eggs are laid and are incubated for 15-20 days. Both parents feed the young.
References
Clements, JF. 2009. The Clements Checklist of Birds of the World. 6th ed., with updates to December 2009. Ithaca: Cornell Univ. Press. ISBN 978-0801445019.
Recommended Citation
External Links