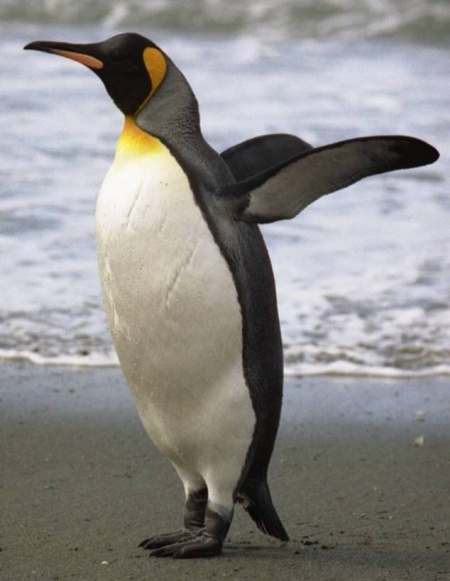 Aptenodytes patagonicus
Identification
L. 85-95 cm (33-37") This is the second largest of the penguins
Adult: A large grey, black and white penguin with black-bordered bright orange ear-patch and orange upper breast. Bill long and slender, black with orange patch on lower mandible. Bright orange pigment (spheniscins) recently isolated is unique to penguins [12]
Immature: Paler. Bill stripe pale pink and neck patch whitish with a hint of yellow.
Chicks: Very different. Solid woolly brown. Originally thought to be a separate species, "Woolly Penguin."
Similar Species
Smaller than more southerly Emperor Penguin with different head pattern and silvery upper back.
Distribution
Subantarctic seas, breeding on the islands of Macquarie, Marion, Prince Edward, Heard, Kerguelen and Crozet, South Sandwich, South Georgia and the Falkland Islands, also on Staten and Horn Islands off Cape Horn.
Vagrants recorded on Gough Island, South Africa and southern Australia.
Immatures wander more widely than adults.
Taxonomy
This is a monotypic species[1]

Recognition of A. p. halli described by Mathews (2011)[8] controversial. This race accepted by Peters (1931)[10] and upheld provisionally by Martinez et al. (2018).[7] However, Murphy (1936)[9] and Stonehouse (1960) [11]found the supposed differences to be just individual variation. Species now considered monotypic by Clements et al. (2018)[1];Gill, F & D Donsker (2018)[4]; Dickinson, EC (2014)[3]; Blake (1977)[2]; and Marchant, S. & P.J. Higgins (1990)[6]. See Birforum taxonomy thread
Habitat
Breeds on remote rocky islands, otherwise at sea.
Behaviour
Often associates with Gentoo Penguin.
Breeding
Breeding cycle takes 12-13 months so breeds twice every three years. The single egg is incubated resting on the feet and beneath a fold of the lower abdomen. Incubation takes about 8 weeks and chick is fed for 11-12 months.
Present at breeding sites September to April but can be seen in the area throughout the year.
Diet
Small fish and squid.
Vocalisation
Makes occasional braying, squawking or trumpeting sounds.
References
Clements, J. F., T. S. Schulenberg, M. J. Iliff, D. Roberson, T. A. Fredericks, B. L. Sullivan, and C. L. Wood. 2018. The eBird/Clements checklist of birds of the world: v2018. Downloaded from http://www.birds.cornell.edu/clementschecklist/download/
Blake, E. R. 1977. Manual of neotropical birds. Volume 1. University of Chicago Press, Chicago, Illinois.
Dickinson, EC, ed. 2014. The Howard and Moore Complete Checklist of the Birds of the World. 4th ed. Princeton: Princeton Univ. Press. ISBN 978-0956861122
Gill, F & D Donsker (Eds). 2018. IOC World Bird List (v8.1). doi : 10.14344/IOC.ML.8.1. Available at http://www.worldbirdnames.org/.
King Penguin (Aptenodytes patagonicus), In Neotropical Birds Online (T. S. Schulenberg, Editor). Cornell Lab of Ornithology, Ithaca, NY, USA. retrieved from Neotropical Birds Online: https://neotropical.birds.cornell.edu/Species-Account/nb/species/kinpen1
Marchant, S. & P.J. Higgins (eds) 1990. Handbook of Australian, New Zealand and Antarctic Birds. Volume 1: Ratites to Ducks. Oxford University Press, Melbourne
Martínez, I., Jutglar, F. & Garcia, E.F.J. (2018). King Penguin (Aptenodytes patagonicus). In: del Hoyo, J., Elliott, A., Sargatal, J., Christie, D.A. & de Juana, E. (eds.). Handbook of the Birds of the World Alive. Lynx Edicions, Barcelona. (retrieved from https://www.hbw.com/node/52456 on 27 May 2018).
Mathews G. M. 1911. The birds of Australia. London, UK: Witherby
Murphy, R.C. (1936) Oceanic Birds of South America. Am. Mus. Nat. Hist.
Peters, J. L. (1931) Checklist of Birds of the World. Vol. 1. Harvard, Univ. Press.
Stonehouse, B (1960). "The King Penguin Aptenodytes patagonicus of South Georgia I. Breeding behaviour and development". Falkland Islands Dependencies Survey Scientific Report. 23: 1–81.
Thomas, DB, McGoverin CM., McGraw KJ. James HF, Madden O. 2013. Vibrational spectroscopic analyses of unique yellow feather pigments (spheniscins) in penguins. Journal of the Royal Society [10.1098/rsif.2012.1065]
Recommended Citation
External Links
GSearch checked for 2020 platform.1