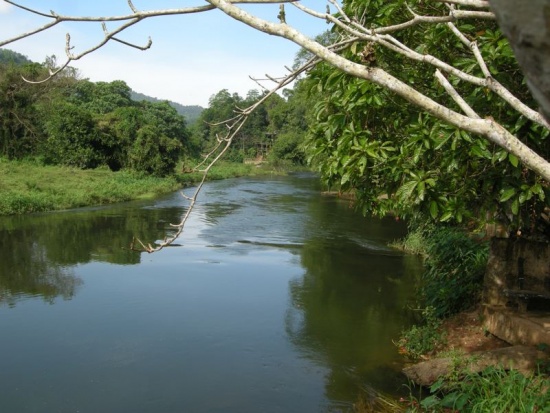 Overview
Kitulgala is a small place in the wet zone of Sri Lanka. The forests around the Kelani River host most of the endemic species of the country, including Serendib Scops Owl and Green-billed Coucal.
Birds
Notable Species
Many of the Sri Lankan wet zone endemics occur here. Sri Lanka Junglefowl, Sri Lanka Green Pigeon, Sri Lanka Hanging Parrot, Layard's Parakeet, Sri Lanka Grey Hornbill, Yellow-fronted Barbet, Black-capped Bulbul and Spot-winged Thrush can be found easily. Other species are harder to find like Green-billed Coucal (often near the river), Chestnut-backed Owlet and the recently discovered Serendib Scops Owl.
Indian Pitta is often heard in winter and can also be seen.
Check-list
Birds you can see here include:
Sri Lanka Junglefowl, Sri Lanka Spurfowl, Indian Pond Heron, Cattle Egret, Little Egret, Little Cormorant, Brahminy Kite, White-bellied Sea-Eagle, Black Eagle, Crested Serpent Eagle, Shikra, White-breasted Waterhen, Green Imperial Pigeon, Spotted Dove, Sri Lanka Green Pigeon, Emerald Dove, Sri Lanka Hanging Parrot, Layard's Parakeet, Indian Cuckoo, Greater Coucal, Green-billed Coucal, Chestnut-backed Owlet, Serendib Scops Owl, Indian Swiftlet, Crested Treeswift, Malabar Trogon, Common Kingfisher, White-throated Kingfisher, Stork-billed Kingfisher, Blue-tailed Bee-eater, Sri Lanka Grey Hornbill, Yellow-fronted Barbet, Red-backed Flameback, Crimson-backed Goldenback, Indian Pitta, Orange Minivet, Common Iora, Sri Lanka Drongo, White-bellied Drongo, Black-headed Oriole, Black-naped Monarch, Indian Jungle Crow, Sri Lanka Swallow, Barn Swallow, Black-capped Bulbul, Red-vented Bulbul, White-browed Bulbul, Yellow-browed Bulbul, Square-tailed Bulbul, Plain Prinia, Common Tailorbird, Clamorous Reed Warbler, Green Warbler,Brown-capped Babbler, Dark-fronted Babbler, Tawny-bellied Babbler, Orange-billed Babbler, Yellow-billed Babbler, Indian White-eye, Lesser Hill Myna, Common Myna, Spot-winged Thrush, Oriental Magpie-Robin, Tickell's Blue Flycatcher, Jerdon's Leafbird, Purple-rumped Sunbird, White-rumped Munia, Grey Wagtail
Other Wildlife
Toque Macaque and Purple-faced Langur can be seen. Other mammals are more difficult to find.
Site Information
History and Use
Kitulgala is known as location for the movie "The Bridge on the River Kwai", filmed here in 1957.
Nowadays it's a popular tourist spot for people from Colombo who enjoy their weekends here and do some river rafting.
Areas of Interest
Most of the hotels are located at the river and birding on the hotel grounds can be rewarding. The grounds of the Plantation Hotel hold Green-billed Coucal. If you're not staying there ask at the reception if you're allowed to bird down at the river and around the restaurant.
The small farms around the police station (about 100m off the main road, signed) are worth checking. Ask for permission if you observe close to a farm. Indian Pitta, Spot-winged Thrush and Chestnut-backed Owlet can be found here. Some farmers are aware and proud of their birds and are willing to show them. They don't expect payment but bear in mind that they're not rich and (at least compared to them) you are!
East of the rather posh Kitulgala Resthouse a small ferry crosses the river. Take the path through the small village and you will reach the entrance of Makandawa Forest. The entry fee is 650 Rupees, a guide is not needed. If the office is unattendend you can also pay when you come back. Leeches are frequent here.
Access and Facilities
Kitulgala can be reached by public bus from the lowlands (Colombo) and from Nuwara Eliya. Locally a car or an autorikshaw will be needed.
There are several hotels and lodges in Kitulgala, some of the rather expensive. However, the expensive ones are usually the ones in the best locations (at the river) and with excellent birding on the hotel grounds. Kitulgala is popular at weekends and from January to March. Booking in advance might be wise then.
External Links