Sarkidiornis melanotos
Alternative name: African Comb Duck
Identification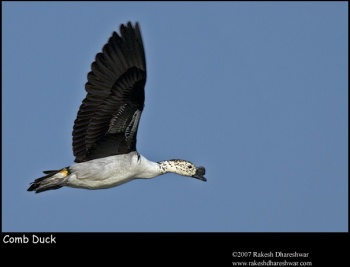 55–63 cm (21-25)
Glossy blue black upperparts
White underparts
Blue and green iridescent secondaries
White head with dark spots
White neck

Male - larger with large black knob on the bill
Juvenile
Dull buff underparts, face and neck
Dull brown upperparts, crown and eyestripe
Distribution
Sub-Saharan Africa, Madagascar, south Asia, Pakistan, Laos and extreme southern China.
Taxonomy
This is a monotypic species1.
Formerly considered conspecific with Comb Duck from South America.
Habitat
Wetlands, freshwater swamps, rice fields and lakes.
Behaviour
Diet
The diet for both subspecies is mostly vegetarian, with grass, seeds and rice grain; supplemented with small fish and invertebrates.
Breeding
They nest in tree holes and tall grass. The nest is lined with reeds, grass, or feathers. 7-15 yellowish-white eggs are laid; incubated by the female for about 30 days.
References
Clements, J. F., T. S. Schulenberg, M. J. Iliff, D. Roberson, T. A. Fredericks, B. L. Sullivan, and C. L. Wood. 2018. The eBird/Clements checklist of birds of the world: v2018. Downloaded from http://www.birds.cornell.edu/clementschecklist/download/
Hockey, PAR, WRJ Dean, and PG Ryan, eds. 2005. Roberts' Birds of Southern Africa. 7th ed. Cape Town: John Voelcker Bird Book Fund. ISBN 978-0620340533
Handbook of the Birds of the World Alive (retrieved June 2015)
Recommended Citation
External Links