This article is incomplete.
This article is missing one or more sections. You can help the BirdForum Opus by expanding it.
Overview
Another Greek island closer to the shores of Turkey, Kos is becoming increasingly popular as a birding destination. There is a well established tourist infra-structure and its positon, like Lesvos, Khios and Samos to the north, makes it ideal for seeing a number of scarce eastern migrants, especially in spring.
Birds
Notable Species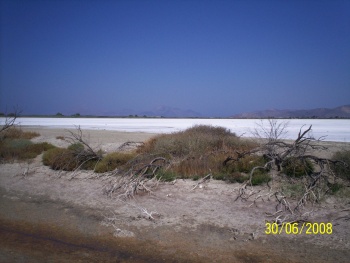 Migrants aside, Kos has a good range of breeding species including Bonelli's Eagle in the mountains of the south and Mt Dikios in particular. Lanner Falcon is a possibility, Black Woodpecker has recently been found here and there are also Lesser Kestrel and Long-legged Buzzard. Chukar Partridge occurs in agricultural areas on Kos. Cape Fokas on the south coast is a breeding site for Blue Rock Thrush and Eleonora's Falcon, and shearwaters can be seen over the sea.
With further exploration Kos is likely to produce a bird list similar to that of Lesvos and rarities such as Slender-billed Curlew have already be recorded several times at Alikes.
Rarities
Check-list
Birds you can see here include:
Cory's Shearwater, Yelkouan Shearwater, Mediterranean Shag, Little Bittern, Black-crowned Night Heron, Squacco Heron, Little Egret, Great White Egret, Grey Heron, Purple Heron, Glossy Ibis, Greater Flamingo, Ruddy Shelduck, Mallard, Northern Pintail, Garganey, Northern Shoveler, European Honey Buzzard, Black Kite, Western Marsh Harrier, Long-legged Buzzard, Bonelli's Eagle, Lesser Kestrel, Common Kestrel, Red-footed Falcon, Eleonora's Falcon, Lanner Falcon, Chukar Partridge, Water Rail, Common Moorhen, Eurasian Coot, Black-winged Stilt, Little Ringed Plover, Ringed Plover, Kentish Plover, Eurasian Dotterel, Eurasian Golden Plover, Dunlin, Broad-billed Sandpiper, Ruff, Whimbrel, Common Greenshank, Marsh Sandpiper, Green Sandpiper, Wood Sandpiper, Common Sandpiper, Lesser Black-backed Gull, Yellow-legged Gull, Sandwich Tern, Eurasian Collared Dove, European Turtle Dove, Great Spotted Cuckoo, Eurasian Scops Owl, Little Owl, European Nightjar, Common Swift, Pallid Swift, Alpine Swift, Common Kingfisher, European Bee-eater, European Roller, Eurasian Hoopoe, Black Woodpecker, Greater Short-toed Lark, Crested Lark, Sand Martin, Barn Swallow, Red-rumped Swallow, Northern House Martin, Tawny Pipit, Tree Pipit, Meadow Pipit, Red-throated Pipit, Black-headed Wagtail, Citrine Wagtail, Grey Wagtail, White Wagtail, Common Nightingale, Eurasian Robin, Black Redstart, Common Redstart, Whinchat, European Stonechat, Northern Wheatear, Black-eared Wheatear, Blue Rock Thrush, Eurasian Blackbird, Zitting Cisticola, Eurasian Reed Warbler, Eastern Olivaceous Warbler, Olive-tree Warbler, Icterine Warbler, Sardinian Warbler, Subalpine Warbler, Blackcap, Eastern Bonelli's Warbler, Spotted Flycatcher, European Pied Flycatcher, Collared Flycatcher, Great Tit, Eurasian Golden Oriole, Red-backed Shrike, Great Grey Shrike, Woodchat Shrike, Common Magpie, Eurasian Jackdaw, Hooded Crow, Northern Raven, House Sparrow, Spanish Sparrow, Chaffinch, European Serin, European Greenfinch, European Goldfinch, Cretzschmar's Bunting, Ortolan Bunting, Black-headed Bunting, Corn Bunting
Other Wildlife
To do
Site Information
History and Use
To do
Areas of Interest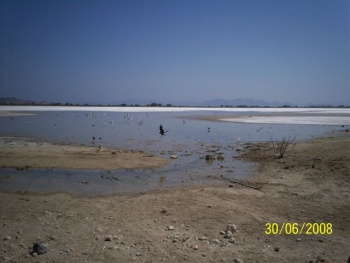 There are few wetland areas of note on Kos, Alikes Lake on the north coast about 10km west of Kos Town, is an area of disused saltpans with reedbeds, marshy areas and open water. Various herons such as Great White Egret and passage waders including Broad-billed Sandpiper are regular here as is Ruddy Shelduck and Greater Flamingo.
Similar species are found at Psalidi, a small lake with reedbeds where Zitting Cisticola nests, 4km to the south-east of Kos Town. Open sandy areas around these wetlands are home to Stone-curlew and Tawny Pipit.
Mt Dikios has pine-covered slopes and can be reached via Zipa. There are good areas for mountain and forest birds around the villages of Zia and Pili high in these hills. Below Pili on the coast is an area of wetlands near Tigaki and the island's only bird reserve. This is another site for Broad-billed Sandpiper and other waders, herons, crakes and passerines including Olive-tree Warbler and Eastern Olivaceous Warbler, Cretzschmar's Bunting and Ortolan Bunting and other migrants. White-breasted Kingfisher is possible and there is an old record of Pin-tailed Sandgrouse for Kos.
Access and Facilities
There are regular flights to Kos from Athens and the island can also be reached by ferry from Athens, Rhodes and other islands as well as from Bodrum in Turkey. There is plenty of accommodation ranging from the most basic of rooms to luxury hotels and car, moped or cycle hire is easily available. A package deal is a very convenient and inexpensive way to see the birds of Kos.
Contact Details
To do
External Links
Content originally posted by Steve, and images by red-rumped swallow