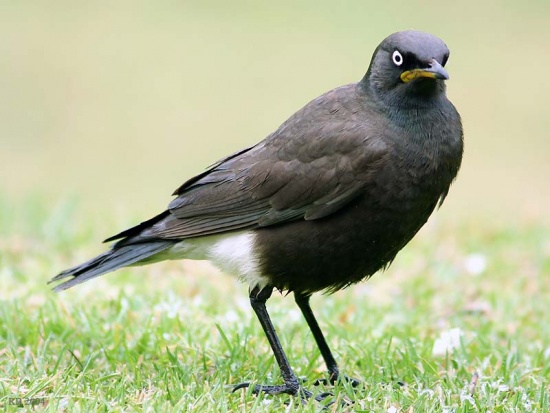 Alternative name: Pied Starling
Lamprotornis bicolor
Spreo bicolor
Identification
Length 25 cm, mass 100 g
Adult: Dark blackish brown; wings and tail have a greenish sheen. The belly and vent are white. The bill is black above and yellow below, with a yellow wattle at the gape, and the eye is white.
Immature: The whole bill is dark, and the eyes are brown.
Distribution
South Africa (south of 24.5° S), Lesotho and western Swaziland.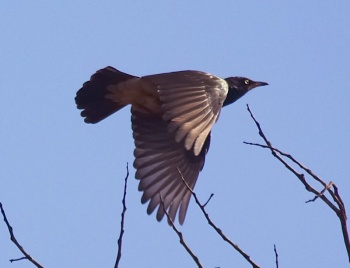 Taxonomy
This is a monotypic species which is sometimes placed in genus Spreo.
Habitat
Grasslands; ranging from coastal habitats in the west and south to an altitude of 2500 m. Often seen around rural homesteads, livestock and on croplands, but avoids large urban areas.
Behaviour
African Pied Starlings are gregarious birds; they feed in flocks and large numbers congregate at roosts in reedbeds and copses (up 1550 counted at roosts).
Diet
These birds forage on the ground, mainly for invertebrates, but also eats seeds, nectar and fruit. They follow livestock, feeding on disturbed insects, and on ticks on sheep and cattle. May form mixed-species foraging flocks with Wattled Starlings.

Allofeeding has often been observed; this may contribute to bonding between individuals.
Breeding
Both solitary and colony nesting occurs. Nests are usually made in 30- to 150-cm long burrows in earth banks, but are also made in holes in walls, hay bales or trees. Nests are lined with a wide variety of materials by both sexes. Between 2 and 6 eggs are laid; laying has been recorded in all seasons. Immature birds and unmated adults help parents feed nestlings and fledglings.

Parasitised by Great Spotted Cuckoo and, less frequently, Greater Honeyguide.
Vocalisation
Like other Starlings, Pied Starlings are fairly noisy, with a loud wreek-wreek call given before take-off and in flight.
References
Clements, J. F., T. S. Schulenberg, M. J. Iliff, D. Roberson, T. A. Fredericks, B. L. Sullivan, and C. L. Wood. 2015. The eBird/Clements checklist of birds of the world: v2015, with updates to August 2015. Downloaded from http://www.birds.cornell.edu/clementschecklist/download/
Del Hoyo, J, A Elliott, and D Christie, eds. 2009. Handbook of the Birds of the World. Volume 14: Bush-shrikes to Old World Sparrows. Barcelona: Lynx Edicions. ISBN 978-8496553507
Hockey PAR, Dean WRJ & Ryan PG (eds) 2005. Robert's Birds of Southern Africa, 7th edition. John Voelcker Bird Book Fund, Cape Town, South Africa. ISBN 0620340533
Recommended Citation
External Links