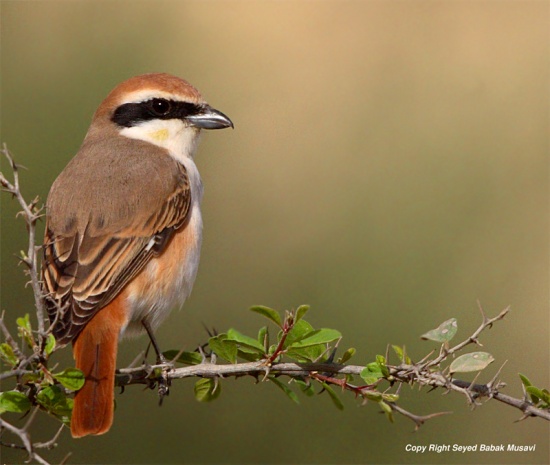 Alternative name: Turkestan Shrike
Lanius phoenicuroides
Identification
16-18cm

Sandy-grey upperparts
Buffish-white underparts
Long rufous tail
Similar Species
Juvenile Red-backed Shrike
Distribution
Found from Iran to Pakistan, southern Kazakhstan and extreme western China.
Taxonomy
This is a monotypic species.
It has been included in Isabelline Shrike in the recent past, and with that in Red-backed Shrike earlier.
Habitat
Desert oases, thorn forests, and other scrubby, shrub and woodlands. Also on farmland.
Behaviour
Movement
It hunts from a low, exposed perch from which it either glides and hovers to take its prey or drops directly onto it when the prey is below the perch.
Diet
Insects are caught in flight. The bird returns to its perch in order to eat or store its prey; it stores food on spikes (twigs, barbed wire, thorns) for later consumption. It impales small mammals before it consumes it and such prey is tackled by eating the head and limbs first.
Breeding
A nest of dry grass stems lined with soft grass is build and placed in a tree or bush. The 4-8, usually 5-6, eggs are laid late May – late June and are incubated by the female for 15-16 days, while the male feeds her. Both parents feed juveniles, which fledge at 13-14 days.
References
Clements, J. F., T. S. Schulenberg, M. J. Iliff, B.L. Sullivan, C. L. Wood, and D. Roberson. 2013. The eBird/Clements checklist of birds of the world: Version 6.8., with updates to August 2013. Downloaded from http://www.birds.cornell.edu/clementschecklist/download/
Wikipedia
Recommended Citation
External Links