Motacilla maderaspatensis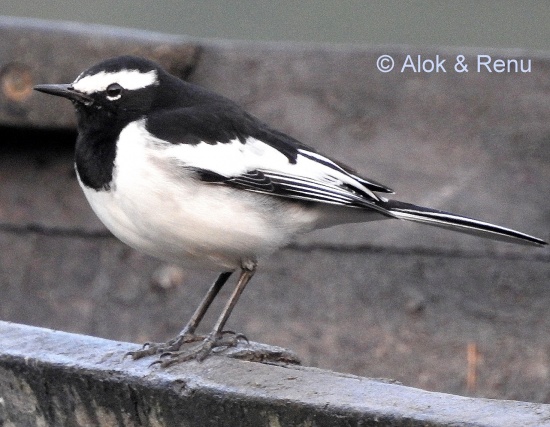 Identification
21–24 cm (8-9½ in)
Male
Black glossy upperparts, head and breast
White supercilium
Large white wingbar
White underparts
Female: less glossy than the male
Juvenile: brownish-grey where the adult is black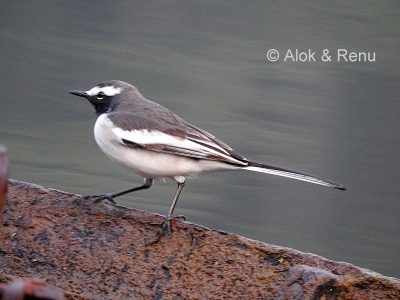 Distribution
India (except Thar Desert and North-East), northern Pakistan, lowlands of Bhutan and Nepal and Bangladesh.
Taxonomy
This is a monotypic species[1].
The scientific name is also spelled madaraspatensis.
Habitat
Open freshwater wetland habitats, especially with rocks and stones; it has adapted well to urban areas.
Behaviour
Breeding
They build a cup-shaped nest in a hole in a wall or bank. The clutch consists of 3-5 eggs.
Diet
The diet includes insects, especially grasshoppers and dragonflies.
Vocalisation
Listen in an external program Listen in an external program
Recording by Alok Tewari
Pong Dam Lake Wildlife and Bird Sanctuary, India, Jan-2011
Bird foraging and calling, 7.30 am.
References
Clements, J. F., T. S. Schulenberg, M. J. Iliff, D. Roberson, T. A. Fredericks, B. L. Sullivan, and C. L. Wood. 2014. The eBird/Clements checklist of birds of the world: Version 6.9., with updates to August 2014. Downloaded from http://www.birds.cornell.edu/clementschecklist/download/
Handbook of the Birds of the World Alive (retrieved July 2015)
Wikipedia
Recommended Citation
External Links