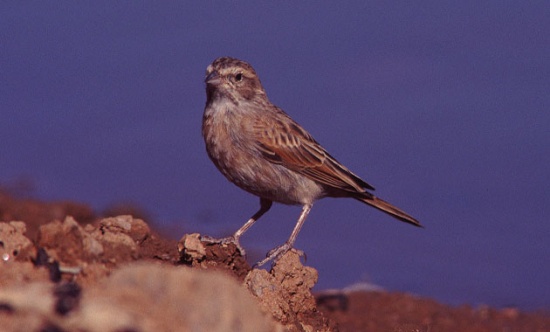 Emberiza impetuani
Identification
Length 14 cm, mass 13-21 g.
A buff-coloured bunting with dark brown wings and tail. Distinguished from larks by its long tail and short legs; it also hops rather than walks.
Distribution
Southern Africa: Core range is western South Africa, Namibia, Botswana and south-western Angola. However, this species is nomadic; the range extends to southern Democratic Republic of Congo, western Zambia, Zimbabwe, eastern South Africa, Lesotho and Swaziland in very cold winters and droughts.
Taxonomy
Emberiza impetuani has two subspecies:2
A third subspecies, E. i. eremica has been described1, but is not recognised by all authorities.
Habitat
Shrubland and sparse grassland.
Behaviour
Shy and restless. Gregarious; often in large flocks. Associates with sparrowlarks and other canaries. Forages on bare ground for seeds of grasses and shrubs, and insects.
Breeding
Monogamous. The nest is a loose cup built of twigs, lined with rootlets and grass awns. Two to four eggs are laid September to May; in dry areas, timing depends on rainfall. Eggs are incubated for 11-13 days, and the nestling period is 12-13 days.
References
Clements JF. 2007. The Clements Checklist of Birds of the World. 6th ed., with updates to October 2008. Cornell University Press. ISBN 9780801445019
Hockey PAR, Dean WRJ & Ryan PG (eds) 2005. Robert's Birds of Southern Africa, 7th edition. John Voelcker Bird Book Fund, Cape Town, South Africa. ISBN 0620340533
External Links