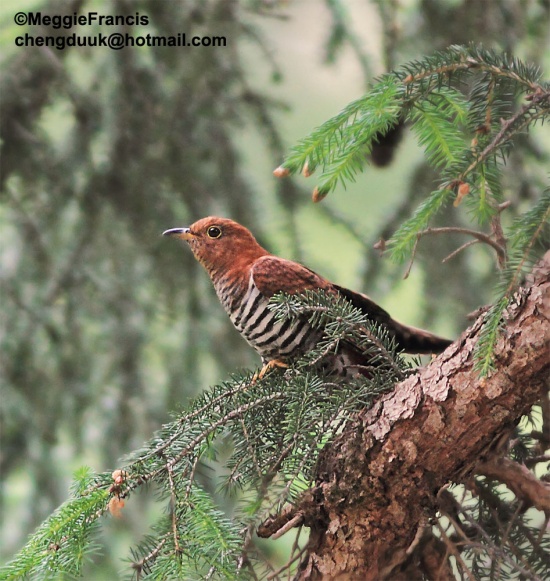 Alternative names: Asian Lesser Cuckoo; Small Cuckoo; Little Cuckoo
Cuculus poliocephalus
Identification
25cm.
Slate-grey upperparts
Contrastingly blackish tail and uppertail-coverts, tail with white tip and whtie spots at sides
Unbarred white bend of wing below
Light grey throat and breast
White belly with black bars
Undertail-coverts often barred black
Yellow eye-ring
Females are similar, sometimes with a rufous washed breast. Occurs also in a rufous morph (both sexes).
Juveniles are slate-grey with white bars above, a black face with white bars and a barred black and white breast and belly.
Similar Species
Oriental Cuckoo and Himalayan Cuckoo are larger and have different calls.
Very similar to the Madagascar Cuckoo; probably not always safely distinguished in the field. Thin bars, weakly marked undertails and a pale head are good features for Madagascar Cuckoo.
Distribution
Breeds from northern Afghanistan and northern Pakistan east trough the Himalayan foothills of India and Nepal to Bangladesh to northern Burma. Also across China to Ussuriland (Russia), Korea and Japan.
Winters in peninsular India, Sri Lanka and eastern Africa.
Common to fairly common in its range.
Taxonomy
This is a monotypic species[1].
Subspecies assamicus is generally considered invalid[3].
Forms a superspecies with Madagascar Cuckoo and both are sometimes treated as conspecific. Sunda Cuckoo has been placed in this species sometimes, but present evidence does not support this.
Habitat
Forest and woodland.
Behaviour
Diet
Feeds on insects, mainly caterpillars.
Breeding
Breeding season May to July. A brood parasitic. Host species are small Warblers, Wren-Babblers, Shortwings and Japanese Bush Warbler.
Movements
A migratory species.
Vocalisation
Recording by china guy, Sichuan, China, June 2011
References
Clements, J. F., T. S. Schulenberg, M. J. Iliff, B.L. Sullivan, C. L. Wood, and D. Roberson. 2012. The eBird/Clements Checklist of Birds of the World. 6th ed., with updates to October 2012. Ithaca: Cornell Univ. Press. ISBN 978-0801445019. Spreadsheet available at http://www.birds.cornell.edu/clementschecklist/downloadable-clements-checklist
Del Hoyo, J, A Elliot, and J Sargatal, eds. 1997. Handbook of the Birds of the World. Volume 4: Sandgrouse to Cuckoos. Barcelona: Lynx Edicions. ISBN 978-8487334221
Avibase
Recommended Citation
External Links