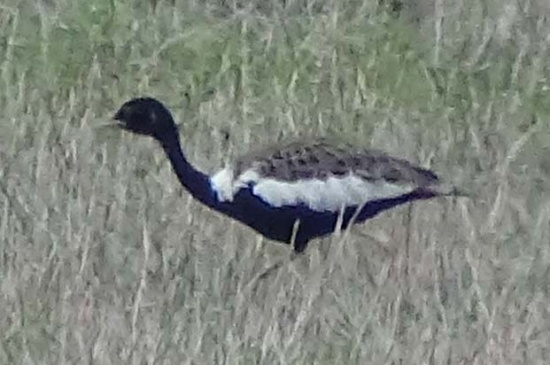 Sypheotides indicus
Identification
Male 46 cm (18in); female 51 cm (20 in)
Around 4 or 6 upward curving black plumes behind the head
White upper wing coverts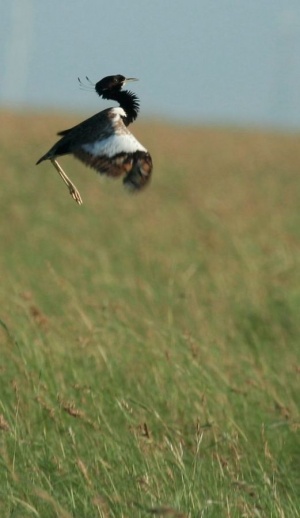 Distribution
Asia: found in Nepal, Pakistan and India.
Taxonomy
This is a monotypic species[1].
Eupodotis vs. Sypheotides
Some authorities (Sibley & Monroe, 1996) lump the genus Sypheotides within Eupodotis. However, Clements (2007) and Howard & Moore (2003) have split Sypheotides as a separate genus, and the Opus follows in this consensus.
Habitat
Open grasslands.
Conservation Status
Classified as Endangered in the 2007 IUCN Red List (BirdLife International, 2007). This is because the population is small and declining as a result of loss of and changes in its grassland habitat.
Behaviour
Diet
They are mainly vegetarian, eating seeds, grass, herbs, shoots and berries, though they also eat grasshoppers and beetles.
Breeding
Timing of breeding depends on the monsoon. The male displays by jumping into the air above the grass level. The nest is on bare ground.
References
Clements, J. F., T. S. Schulenberg, M. J. Iliff, D. Roberson, T. A. Fredericks, B. L. Sullivan, and C. L. Wood. 2016. The eBird/Clements checklist of birds of the world: v2016, with updates to August 2016. Downloaded from http://www.birds.cornell.edu/clementschecklist/download/
Handbook of the Birds of the World Alive (retrieved October 2016)
BirdLife International (2007) Species factsheet: Sypheotides indicus. Downloaded from [http://www.birdlife.org] on 21/2/2008.
Recommended Citation
External Links