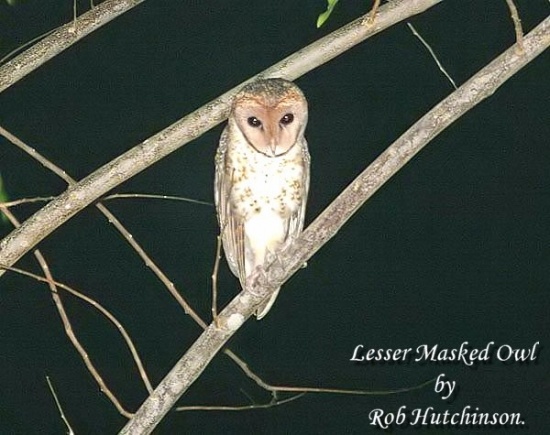 Alternative names: Moluccan Masked Owl; Tanimbar Owl
Tyto sororcula
Includes: Seram Masked Owl
Identification
29-31cm. A small Masked Owl.
Brownish upperparts mottled white
Whitish underparts with dark spotting on sides
Pale legs covered only with flesh-coloured bristles
cayelii slightly larger, more tawny buff over all, more blackish upperparts
almae with yellow-ochre underparts, more dusky on middle and lower back
Females larger as males. Juveniles undescribed.
Distribution
Found on Tanimbar, Buru and Seram (Indonesia).
A poorly known restricted-range species.
Taxonomy
Three subspecies recognized:
T. s. sororcula on Tanimbar Island
T. s. cayelii on Buru Island (Southern Moluccas)
T. s. almae on Seram Island (Southern Moluccas)
almae is recognized as full species by Clements, however the other worldlists don't yet follow this treatement and the Opus awaits further clarification.
Habitat
Primary and mature secondary forest.
Behaviour
No information about diet or breeding.
Presumably a resident species.
References
Clements, J. F., T. S. Schulenberg, M. J. Iliff, B.L. Sullivan, C. L. Wood, and D. Roberson. 2012. The eBird/Clements Checklist of Birds of the World. 6th ed., with updates to October 2012. Ithaca: Cornell Univ. Press. ISBN 978-0801445019. Spreadsheet available at http://www.birds.cornell.edu/clementschecklist/downloadable-clements-checklist
Del Hoyo, J, A Elliot, and J Sargatal, eds. 1999. Handbook of the Birds of the World. Volume 5: Barn-Owls to Hummingbirds. Barcelona: Lynx Edicions. ISBN 978-8487334252
Recommended Citation
External Links