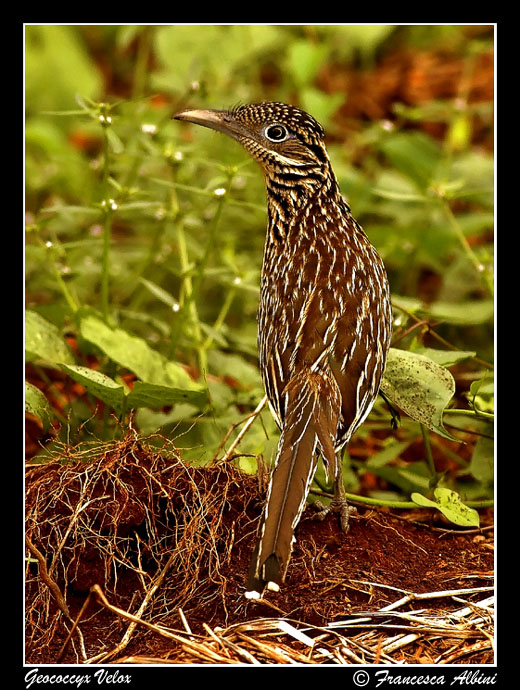 Geococcyx velox
Identification
48cm. A crested and long-tailed Ground Cuckoo.
Streaked brown above
Buff underparts with sides of neck and breast streaked
Tan undertail-coverts, darker than belly
Blue bare skin behind eye, extending back to red patch
Yellow to brown eye
Sexes similar. Juveniles have buff feather tips above and dark spots (instead of streaks) on breast.
Distribution
Found in western and southern Mexico and from Guatemala, El Salvador and Honduras to central Nicaragua.
Fairly common in its range.
Taxonomy
This is a monotypic species.
Habitat
Lives in arid lowland and montane scrub, in dry open country with scattered brush, thorn scrub, grassy and lightly wooded hillsides and farmland.
From sea-level up to 2800 m, sometimes up to 3000m.
Behaviour
Diet
Feeds on insects, mainly grasshoppers and caterpillars. Foraging behaviour like Greater Roadrunner.
Breeding
Breeding season in April (Veracruz), May to July (Oaxaca), April to May in Guatemala and August in El Salvador. The nest is a bulky stick platform placed in a bushy tree, a thorn bush or in the centre of a cactus thicket. Lays 2 to 3, sometimes 4 eggs.
Movements
A resident species.
References
Clements, J. F., T. S. Schulenberg, M. J. Iliff, B.L. Sullivan, C. L. Wood, and D. Roberson. 2013. The eBird/Clements checklist of birds of the world: Version 6.8., with updates to August 2013. Downloaded from http://www.birds.cornell.edu/clementschecklist/download/
Del Hoyo, J, A Elliot, and J Sargatal, eds. 1997. Handbook of the Birds of the World. Volume 4: Sandgrouse to Cuckoos. Barcelona: Lynx Edicions. ISBN 978-8487334221
Recommended Citation
External Links