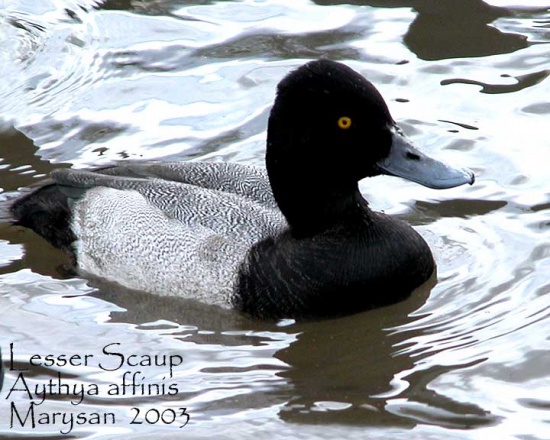 Aythya affinis
Identification
39-46 cm.
Slight bump or peak on back of head
Male
Bill blue with small black tip
Black head, chest, and rear end
Grey sides

Female
Drabber and brown with white patch at base of bill.
Similar Species
The Greater Scaup is essentially identical in all plumages, but the head shape is slightly different, with a peak on the forehead instead of behind the eye. The bill in the Greater is also longer and wider. These differences can be quite difficult to discern, so range and habitat are often better determinates. Female Tufted Duck can show similar white face.
Beware male hybrid Tufted x Pochard and Tufted x Greater Scaup
Distribution
North America: Alaska to southern US; winters northern South America and Hawaiian Islands.
Vagrants regularly arrive in Europe
Taxonomy
This is a monotypic species[1].
Habitat
Fresh water.
Behaviour
Breeding
They nest in a sheltered location on the ground close to water.
Diet
Includes molluscs and aquatic plants.
References
Clements, J. F., T. S. Schulenberg, M. J. Iliff, D. Roberson, T. A. Fredericks, B. L. Sullivan, and C. L. Wood. 2014. The eBird/Clements checklist of birds of the world: Version 6.9., with updates to August 2014. Downloaded from http://www.birds.cornell.edu/clementschecklist/download/
Wikipedia
Collins Field Guide 5th Edition
Recommended Citation
External Links
GSearch checked for 2020 platform.1