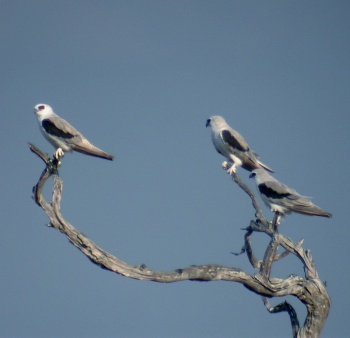 Elanus scriptus
Identification
34–37 cm
White head, tail and underparts
Pale grey above
Black shoulder patch
Red eyes with black eye patches
Flesh coloured legs

The female bird has a greyer crown
Similar Species
Black 'W' shape across the underside of its long, broad white wings gives the bird its name and is key to distinguish this bird from the similar Black-shouldered Kite.
Distribution
Drier parts of Australia. Occurs in the interior of the continent particularly from the Barkly Tableland of Northern Territory to the Lake Eyre Basin of South Australia.
Their range is governed by population fluctuations in the Long-haired Rat (Rattus villosissimus) and when rat numbers are high the kites undergo irruptive movements extending range further west and south.
Taxonomy
This is a monotypic species[1], and one of only four species in the Genus Elanus.
Habitat
Open woodland, grasslands with scattered trees, often along watercourses.
Behaviour
A nocturnal hunter.
Diey
Their diet consists mostly of small rodents (particularly rats) and marsupials.
Breeding
The nest is made of small sticks and is lined with leaves and often rat fur or regurgitated pellets. The female is mostly responsible for incubation and also broods and cares for the young. The male delivers food for the family.
They often nest in colonies.
Movements
Resident, nomadic and irruptive.
References
Clements, J. F., T. S. Schulenberg, M. J. Iliff, D. Roberson, T. A. Fredericks, B. L. Sullivan, and C. L. Wood. 2014. The eBird/Clements checklist of birds of the world: Version 6.9., with updates to August 2014. Downloaded from http://www.birds.cornell.edu/clementschecklist/download/
Handbook of the Birds of the World Alive (retrieved September 2014)
BF Member observations
Birds in Backyards
Recommended Citation
External Links