Accipiter brevipes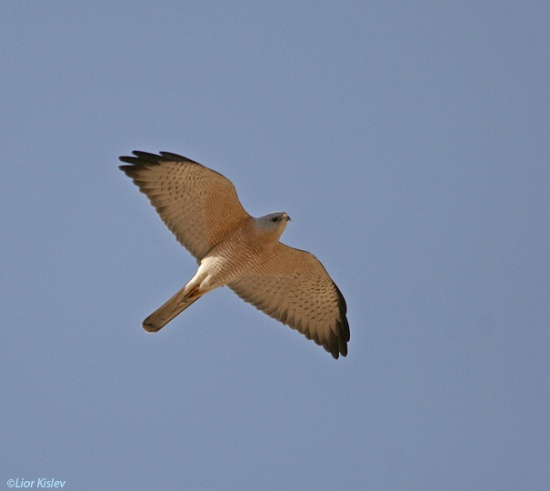 Identification
30-37 cm. Female is larger than the male
Male
Blue-grey upperparts
Dark wingtips
Barred reddish below

Female
Slate-grey upperparts
Darkish wingtips
Barred reddish brown underparts
Dark throat line

Juvenile
Dark brown upperparts
Darkish-streaked underparts
Dark throat (gular) line
Similar Species
Levant Sparrowhawk usually shows four "fingers" which often produces an impression of pointed wings while Eurasian Sparrowhawk shows five-six "fingers". Levant Sparrowhawk therefore shows a flight silhouette that is surprisingly similar to Common Kestrel. Juvenile Levant differs in the more blotchy, streaked appearance of underside and a dark gular stripe, where juvenile Eurasian is barred below.
Distribution
A summer visitor to the southern Ukraine and east across southern Russia to Kazakstan and in scattered parts of South-East Europe. There are small, isolated populations in southern Romania and Bulgaria, the former Yugoslavia, probably Albania and in particular, Greece, and has bred in small numbers in south-east Hungary. In addition, breeds in western and northern Turkey and the Caucasus.
Winters in East Africa and seen on passage across Turkey, the Middle East and Egypt. The Bosphorus is the preferred migration route with smaller numbers through the Caucasus and the passage period is mid August-early October, peaking in the second half of September. The return movement takes place in mid-late April. Passage is very concentrated and most of the population move through in a few days in dense flocks.
Vagrants recorded in Poland, Cyprus, Italy and Tunisia and a rare passage migrant to Kuwait.
Taxonomy
Habitat
Deciduous woodland, in dry, hilly or lowland areas, often along rivers.
Behaviour
Breeding
It nests in trees, lined with green leaves. The clutch consists of 3-5 eggs.
Diet
Diet includes small birds, insects and lizards.
Vocalisation
The call is a sharp "kee-wick".
References
Clements, JF. 2011. The Clements Checklist of Birds of the World. 6th ed., with updates to August 2011. Ithaca: Cornell Univ. Press. ISBN 978-0801445019. Spreadsheet available at http://www.birds.cornell.edu/clementschecklist/downloadable-clements-checklist
Wikipedia
Recommended Citation
External Links