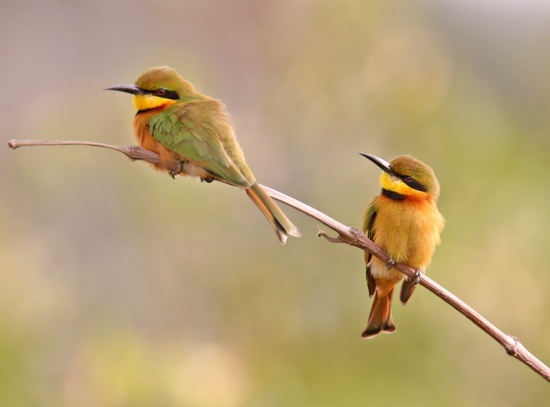 Merops pusillus
Identification
16 cm - 6 1/4 inches

Green upper parts
Yellow throat
Black gorget
Brown upper breast fading towards ochre on the belly
Wings are green and brown
Black beak

Sexes are alike
Distribution
Africa:
Western Africa: Mauritania, Senegambia, Senegal, The Gambia, Guinea-Bissau, Guinea, Mali, Sierra Leone, Liberia, Ivory Coast, Burkina Faso, Ghana, Togo, Benin, Nigeria, Niger, Chad, Cameroon, Central African Republic, Equatorial Guinea, Gabon, Democratic Republic of Congo, Angola
Eastern Africa: Sudan, Eritrea, Ethiopia, Djibouti, Somalia, Kenya, Uganda, Rwanda, Burundi, Tanzania, Zambia, Mozambique, Malawi
Southern Africa: Namibia, Botswana, Zimbabwe, South Africa, KwaZulu-Natal, Swaziland
Taxonomy
Subspecies
Merops pusillus has five subspecies[1]:
Habitat
Open country with scattered trees and bushes.
Behaviour
Diet
Their diet includes insects, especially bees, wasps and hornets, which are caught on the wing.The sting is removed by hitting the insect on a hard surface.
Breeding
A nest is made by making a tunnel in sandy banks, or sometimes in the entrance to an Aardvark den. They lay 4 to 6 spherical white eggs. Both the male and the female take care of the eggs.
References
Clements, J. F., T. S. Schulenberg, M. J. Iliff, D. Roberson, T. A. Fredericks, B. L. Sullivan, and C. L. Wood. 2017. The eBird/Clements checklist of birds of the world: v2017, with updates to August 2017. Downloaded from http://www.birds.cornell.edu/clementschecklist/download/
Avibase
Kenya Birds
Wikipedia
Recommended Citation
External Links