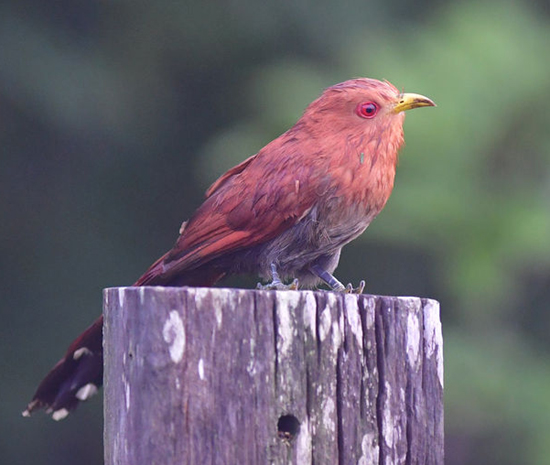 Alternative name: Lesser Chestnut Cuckoo
Coccycua minuta
Identification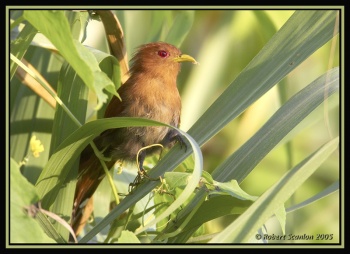 25 cm (9¾ in)
Chestnut upperparts
Rufous-chestnut throat and breast
Dark grey lower belly
Brown tail with white terminal spots
Red iris and eyering
Greyish-yellow bill

Immature birds are dark brown with a black bill and lack the white tail tips.
Distribution
Panama, Colombia, Venezuela, Trinidad, the Guianas, Ecuador, Peru, Bolivia, and Brazil.
Taxonomy
This species has alternatively been placed in genus Piaya or genus Coccycua.
Subspecies
There are 5 subspecies[1]:
Extreme eastern Colombia and adjacent western Venezuela
Colombia west of the Andes and western Ecuador
Habitat
Tropical lowland forest edges, secondary forests and clearings. Mature mangrove swamps, and scrubby woodland near water.
Behaviour
Breeding
They construct an open, deep twig cup nest, which is placed in thick shrubs. Their clutch contains 2 white eggs.
Diet
Diet consists mostly of insects, including caterpillars, wasps, beetles, bugs, flies, as well as spiders.
Reference
Clements, J. F., T. S. Schulenberg, M. J. Iliff, D. Roberson, T. A. Fredericks, B. L. Sullivan, and C. L. Wood. 2018. The eBird/Clements checklist of birds of the world: v2018. Downloaded from http://www.birds.cornell.edu/clementschecklist/download/
Payne, R. (2019). Little Cuckoo (Coccycua minuta). In: del Hoyo, J., Elliott, A., Sargatal, J., Christie, D.A. & de Juana, E. (eds.). Handbook of the Birds of the World Alive. Lynx Edicions, Barcelona. (retrieved from https://www.hbw.com/node/54905 on 31 July 2019).
Banks, R.C. et al. (2006) 47th Supplement to the AOU Checklist of North American Birds. The Auk 123(3):926–936, 2006 [
SACC proposal
Little Cuckoo (Coccycua minuta), In Neotropical Birds Online (T. S. Schulenberg, Editor). Cornell Lab of Ornithology, Ithaca, NY, USA. retrieved from Neotropical Birds Online: https://neotropical.birds.cornell.edu/Species-Account/nb/species/litcuc2
Payne, R.B. (2005) The Cuckoos. Oxford University Press, Oxford & New York.
Schulenberg, T. S. & Stotz, D. F. & Lane, D. F. & O'Neill, J. P. & Parker III, T. A. & Egg, A. B. (2010). Birds of Peru: Revised and Updated Edition. Princeton: Princeton University Press. ISBN 978-0691130231
Recommended Citation
External Links