Hieraaetus morphnoides
Aquila morphnoides
Identification
Short broad head, long tail, square-cut at the tip when closed. Heavily feathered legs. Plumage varies from light to dark brown, with a pale broken 'M' across the upperparts, which is visible from a distance. There is also a pale M-shaped band on the underwing. It has long broad wings, spanning over 1m. The female is larger than the male.
Distribution
[Australia]] except Tasmania.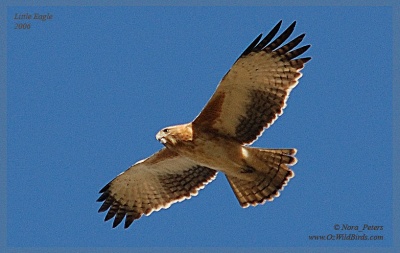 Taxonomy
It was formerly considered conspecific with Pygmy Eagle.
Aquila vs. Hieraaetus
Hieraaetus species are sometimes placed in a broader defined Aquila (e.g. Clements, 2005). Sibley & Monroe (1996) and Howard & Moore (2003) retain the placement in Hieraaetus, and the Opus awaits further clarification.
Habitat
Scrub and woodland, often close to water.
Behaviour
Diet includes rabbits, other live mammals and insects.
Nests are built in mature living trees in open woodland or tree-lined watercourses. It is an open bowl of twigs and branches, lined with green leaves. The female mainly broods the young and feeds the young small pieces of food bill to bill. The male hunts for food for the young. The male will incubate while the female eats the food he has brought for her.
References
Clements, James F. 2007. The Clements Checklist of Birds of the World. 6th ed., with updates to October 2007. Ithaca: Cornell University Press. ISBN 9780801445019
Abstract of paper proposing full species status for Pygmy Eagle
Birdforum thread discussing id of Square-tailed Kite vs Little Eagle
Recommended Citation
External Links