Alternative names: African Bush-Warbler, African Sedge Warbler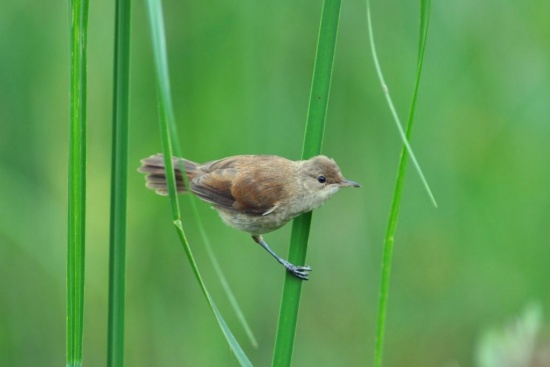 Bradypterus baboecala
Identification
13–15 cm
Dark throat streaks
Short wings
Graduated tail
Slim bill
Distribution
Africa
Western Africa: Ghana, Togo, Nigeria, Chad, Cameroon, Equatorial Guinea, Gabon, Congo, Angola
Eastern Africa: South Sudan, Ethiopia, Kenya, Uganda, Rwanda, Burundi, Tanzania, Zambia, Mozambique, Malawi
Southern Africa: Namibia, Botswana, Zimbabwe, South Africa, KwaZulu-Natal, Lesotho, Swaziland
Taxonomy
Subspecies
Clements recognizes 10 subspecies[1]:
B. b. tongensis (moreaui):
Gill and Donsker and Dickinson split Highland Rush Warbler from this species (including centralis and elgonensis by both and sudanensis and chadensis by Dickinson only). Furthermore the given ranges of the subspecies differ significantly.
Habitat
Swamps, wetlands, reed and sedge beds
Behaviour
Normally skulkers, these birds sometimes call from higher up on bulrushes or reeds.
Diet
Their diet mostly consists of small insects and ant eggs.
References
Clements, J. F., T. S. Schulenberg, M. J. Iliff, D. Roberson, T. A. Fredericks, B. L. Sullivan, and C. L. Wood. 2017. The eBird/Clements checklist of birds of the world: v2017, with updates to August 2017. Downloaded from http://www.birds.cornell.edu/clementschecklist/download/
Avibase
Handbook of the Birds of the World Alive (retrieved October 2014)
Recommended Citation
External Links