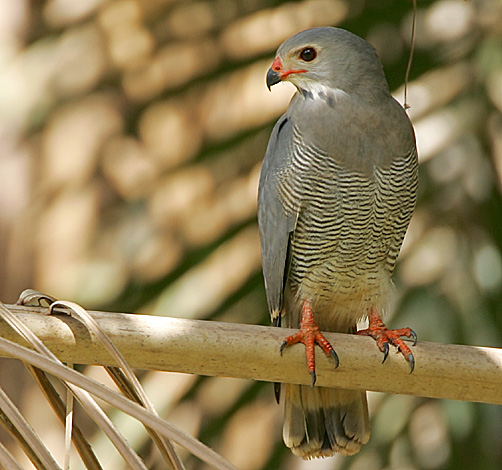 Kaupifalco monogrammicus
Identification
30–37 cm (11¾-14½ in)
Grey upperparts, head and breas
Black vertical black line on the white throat
White belly with fine dark barring
White underwings with dark tips
Black tail with a white tip and a single white band
Orangey-pink cere and legs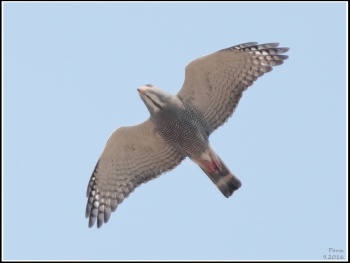 Sexes are similar.
Distribution
Africa south of the Sahara:
Western Africa: Senegal, The Gambia, Guinea-Bissau, Guinea, Mali, Liberia, Ivory Coast, Ghana, Togo, Benin, Nigeria, Niger, Chad, Cameroon, Central African Republic, Equatorial Guinea, Gabon, Democratic Republic of Congo, Angola, Zaire
Eastern Africa: Sudan, South Sudan, Ethiopia, Somalia, Kenya, Uganda, Rwanda, Burundi, Tanzania, Zambia, Mozambique, Malawi
Southern Africa: Namibia, Botswana, Zimbabwe, South Africa, KwaZulu-Natal, Swaziland
Taxonomy
Subspecies
There are two subspecies[1]:
K. m. monogrammicus the northern race:
K. m. meridionalis, the southern race:
Habitat
Riverine forests and moist deciduous woodland.
Behaviour
Breeding
They build a stick nest in the fork of a tree or the crown of a palm tree. The clutch consists of 1-3 eggs.
Diet
Diet includes mainly reptiles, particularly lizards, large insects also small mammals and birds.
References
Clements, J. F., T. S. Schulenberg, M. J. Iliff, D. Roberson, T. A. Fredericks, B. L. Sullivan, and C. L. Wood. 2016. The eBird/Clements checklist of birds of the world: v2016, with updates to August 2016. Downloaded from http://www.birds.cornell.edu/clementschecklist/download/
Avibase
Handbook of the Birds of the World Alive (retrieved October 2016)
Recommended Citation
External Links