This article is incomplete.
This article is missing one or more sections. You can help the BirdForum Opus by expanding it.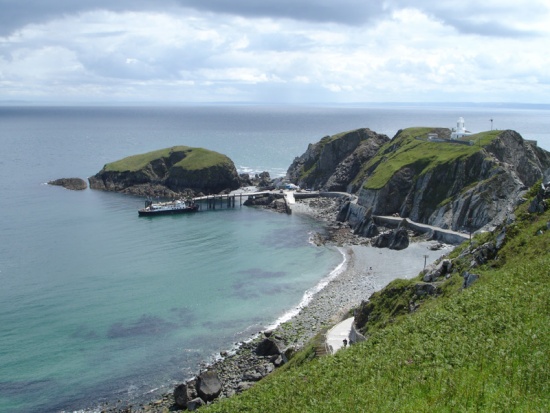 Overview
Lying about 20km off the north coast of Devon, Lundy is a barren and windswept island in the Bristol Channel of spectacular cliffs with deep gullies, boggy moorland and rough pasture. The island is a National Trust property.
Birds
Notable Species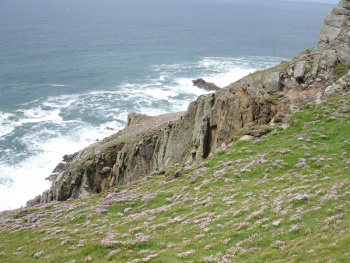 There are some trees and bushes on the island, mainly in the south around the few houses and on the eastern side the slopes have extensive rhododendron growth. However, the largely open habitat means small passerines are few with only Meadow Pipit and Skylark as regular breeders.
During passage periods a much greater range of passerines can be seen including many chats, warblers and flycatchers. In autumn especially there are migrant waders of various species and in winter there are often invasions of flocks of finches and thrushes. Eurasian Dotterel is a rare but regular visitor on passage.
However, Lundy is equally famous for its breeding seabirds and Atlantic Puffin in particular, although this species is now very much in decline. Other breeders include Common Guillemot and Razorbill, Shag and four species of gull. Manx Shearwater and European Storm-petrel are often seen during the boat trip to the island. Peregrine Falcon is often present and both Rock Pipit and Northern Raven can be seen around the cliffs. Northern Lapwing and Eurasian Curlew breed on the moorland.
Rarities
Rare migrants such as Woodchat Shrike, Golden Oriole and Hoopoe frequently occur, and vagrants regularly appear including both Siberian and Nearctic species.
Such exceptional rarities as Veery and Yellow-billed Cuckoo have been recorded but the most unusual bird seen at Lundy is an Ancient Murrelet from the North Pacific in the spring of 1990. Even more extraordinary, the same bird returned the following spring.
Check-list
Birds you can see here include:
Northern Fulmar, Manx Shearwater, European Storm Petrel, European Shag, Merlin, Peregrine Falcon, Water Rail, Eurasian Oystercatcher, Eurasian Golden Plover, Northern Lapwing, Eurasian Dotterel, Purple Sandpiper, Dunlin, Common Snipe, Whimbrel, Eurasian Curlew, Common Sandpiper, Green Sandpiper, Ruddy Turnstone, Lesser Black-backed Gull, Herring Gull, Great Black-backed Gull, Black-legged Kittiwake, Common Guillemot, Razorbill, Atlantic Puffin, Eurasian Hoopoe, Eurasian Skylark, Barn Swallow, Meadow Pipit, Rock Pipit, Yellow Wagtail, Pied Wagtail, Black Redstart, Common Redstart, Whinchat, Northern Wheatear, Ring Ouzel, Yellow-browed Warbler, Common Chiffchaff, Willow Warbler, Goldcrest, Firecrest, Spotted Flycatcher, European Pied Flycatcher, Eurasian Golden Oriole, Northern Raven
Other Wildlife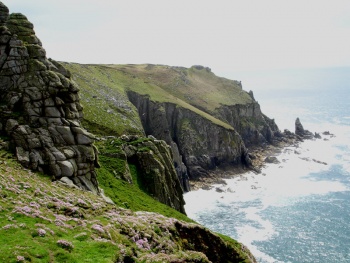 Rabbits are numerous and there are introduced Sika Deer and feral Wild Goat and Soay Sheep on the island, Grey Seal and Basking Shark can usually be seen at sea.

For botanists the main attraction is the Lundy Cabbage, endemic to this small island and with it are two species of beetle that occur solely on this plant.
Site Information
The seas around Lundy are a Marine Nature Reserve and there is an underwater nature trail for divers.
History and Use
To do
Areas of Interest
To do
Access and Facilities
Lundy can be visited by boat from Bideford in North Devon and there are also steamer trips. Accommodation, including a campsite is available on the island. Latest bird sightings are posted at the Marisco Tavern in the south of the island.
Contact Details
To do
External Links
Content and images originally posted by Steve