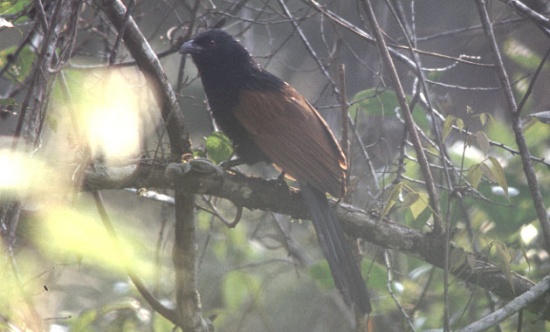 Alternative names: Madagascan Coucal, Malagasy Coucal
Centropus toulou
Identification
40 - 46cm.
Black plumage with rufous-chestnut middle and lower back and wings
Glossy black tail
Red eye
Black bill
Non-breeding plumage striped tan above, black parts with buffy shaft streaks, rose-brown bill
insularis with paler underparts in non-breeding plumage
Sexes similar. Juveniles similar to non-breeding adults but more barred above and with short shaft streaks and barred wings and tail.
Distribution
Found on Madagascar and Aldabra Island.
Fairly common on Madagascar.
Taxonomy
Three subspecies recognized:
C. t. toulou in Madagascar
C. t. insularis on Aldabra
C. t. assumptionis formerly on Assumption Island, extinct
Assumptionis is sometimes included in insularis.
Sometimes considered conspecific with Black Coucal or even with Lesser Coucal.
Habitat
Found in various types of forest, mangroves, marshy reedbeds, grass and gardens.
Occurs from sea-level up to 1800m.
Behaviour
Diet
Feeds on invertebrates, large insects, spiders, lizards, rats, chickens and eggs. Forages on the ground and in thick scrub. Often feeds in pairs, one bird defending the food against Crested Drongos.
Breeding
Nesting recorded from September to March. The nest is a large domed sphere, made from dry grass. It's placed 1 to 4m above the ground in a dense bush. Lays 2 to 3 eggs. The male attends the nest.
Movements
This is a resident species. Resident.
References
Clements, J. F., T. S. Schulenberg, M. J. Iliff, B.L. Sullivan, C. L. Wood, and D. Roberson. 2013. The eBird/Clements checklist of birds of the world: Version 6.8., with updates to August 2013. Downloaded from http://www.birds.cornell.edu/clementschecklist/download/
Del Hoyo, J, A Elliot, and J Sargatal, eds. 1997. Handbook of the Birds of the World. Volume 4: Sandgrouse to Cuckoos. Barcelona: Lynx Edicions. ISBN 978-8487334221
Recommended Citation
External Links