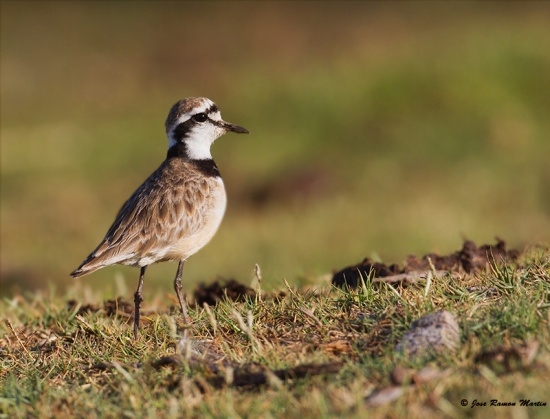 Alternative names: Black-banded Plover; Black-banded Sandplover
Charadrius thoracicus
Identification
13–14 cm (5-5½ in)
Yellowish-orange underparts
White throat
Black Breast band
Distribution
West coast of Madagascar.
Taxonomy
This is a monotypic species[1].
Habitat
Saline wetlands, short coastal grassland, tidal flats and sandy beaches.
Behaviour
Diet
There is not much detail. They are known to eat insects, both large and small. They appear to behave in much the same way as Kittlitz's Plover.
Conservation Status
Classified as Vulnerable in the 2008 IUCN Red List (BirdLife International, 2008); the population is small, and its wetland habitats are threatened.
References
Clements, J. F., T. S. Schulenberg, M. J. Iliff, D. Roberson, T. A. Fredericks, B. L. Sullivan, and C. L. Wood. 2017. The eBird/Clements checklist of birds of the world: v2017, with updates to August 2017. Downloaded from http://www.birds.cornell.edu/clementschecklist/download/
Avibase
Handbook of the Birds of the World Alive (retrieved Jan 2018)
BirdLife International. 2008. Species factsheet: Charadrius thoracicus. Downloaded from http://www.birdlife.org on 19/6/2008
Recommended Citation
External Links