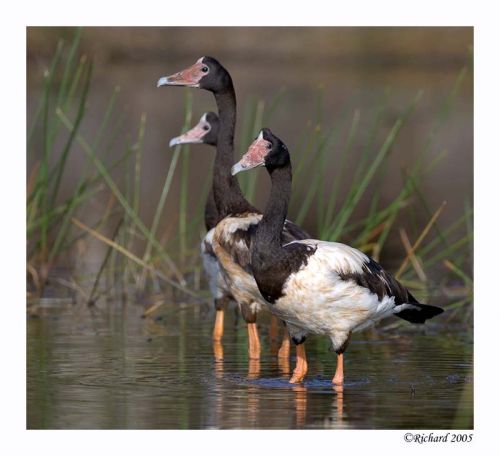 Anseranas semipalmata
Identification
Male 75–90 cm (29½-35½ in); female 70–80 cm (27½-31½ in)
Black and white plumage
Yellow legs
White plumage often stained
Distinct knob on older birds (variable in size)
Hooked bill
Face skin yellow or flesh colour
Partly webbed feet
Distribution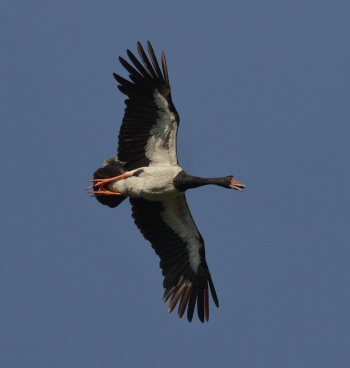 Coastal northern Australia and Trans-Fly savanna of southern New Guinea
Occasionally found as far south as Victoria
Taxonomy
This is a monotypic species[1] and the only member of its genus.
Habitat
Rush and sedge dominated swamps, flood plains of tropical rivers and rice crops.
Behaviour
It is fairly sedentary apart from some movement during the dry season.
Unlike true geese, the moult is gradual, and there is no flightless period.
Breeding
Generally polygamous, usually with two females, they all incubate the eggs and raise the young.

They nest is on the ground; a typical clutch is 5-14 eggs.
They breed in colonies.
After the breeding season they join together in large noisy flocks.
Diet
They are vegetarian, their diet consisting of grass, seeds, rhizomes and bulbs.
Vocalisation
Call: a loud honk.
References
Clements, J. F., T. S. Schulenberg, M. J. Iliff, D. Roberson, T. A. Fredericks, B. L. Sullivan, and C. L. Wood. 2016. The eBird/Clements checklist of birds of the world: v2016, with updates to August 2016. Downloaded from http://www.birds.cornell.edu/clementschecklist/download/
Handbook of the Birds of the World Alive (retrieved December 2016)
The Beauty of Birds
Recommended Citation
External Links
Search the Gallery using the scientific name:
Search the Gallery using the common name:
GSearch checked for 2020 platform.