Hierococcyx fugax
Cuculus fugax
Identification
28-30 cm.
Slate-grey upperparts with brownish wings
Grey and black banded tail with broad black subterminal bar and rufous tip
White moustache and supraloral area
Whitish underparts with pale rufous-brown streaks
Yellow eye-ring
Large yellow bill with black tip
Sexes similar. Juveniles with buff edged feathers, tail with a broad white tip and streaked and spotted black below.
Similar species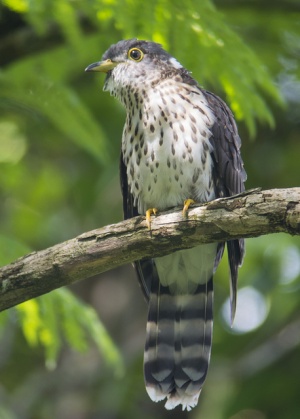 Larger billed and with more rounded wingtips than similar Northern Hawk-Cuckoo and Hodgson's Hawk-Cuckoo. Juvenile generally has whiter and cleaner underparts than Hodgson's Hawk-Cuckoo juvenile which often has a slight rufous orangy wash. Its tail-band is evenly spread while the penultimate dark tail-band of Hodgson's Hawk-Cuckoo is narrowest.
Distribution
From southern Thailand to peninsular Malaysia, Sumatra, Java and Borneo.
Uncommon in most of its range.
Taxonomy
This is a monotypic species.
It was formerly considered conspecific with Philippine Hawk-Cuckoo, Hodgson's Hawk-Cuckoo and Northern Hawk-Cuckoo.
Some authorities view Malaysian Hawk-Cuckoo as belonging to genus Cuculus.
Habitat
Found in deciduous semi-evergreen and evergreen forest. Also in secondary forest, bamboo thickets and plantations. Up to 1400m in Sumatra.
Behaviour
Diet
Feeds on insects, mainly caterpillars. Takes also fruits and berries.
Forages in bushes and understorey.
Breeding
A brood parasitic. Known host species in Borneo is Black-throated Babbler. In Peninsula Malaysia, the host species is White-rumped Shama.
Movements
A resident species.
References
Clements, J. F., T. S. Schulenberg, M. J. Iliff, B.L. Sullivan, C. L. Wood, and D. Roberson. 2013. The eBird/Clements checklist of birds of the world: Version 6.8., with updates to August 2013. Downloaded from http://www.birds.cornell.edu/clementschecklist/download/
Del Hoyo, J, A Elliot, and J Sargatal, eds. 1997. Handbook of the Birds of the World. Volume 4: Sandgrouse to Cuckoos. Barcelona: Lynx Edicions. ISBN 978-8487334221
Recommended Citation
External Links