Coccyzus minor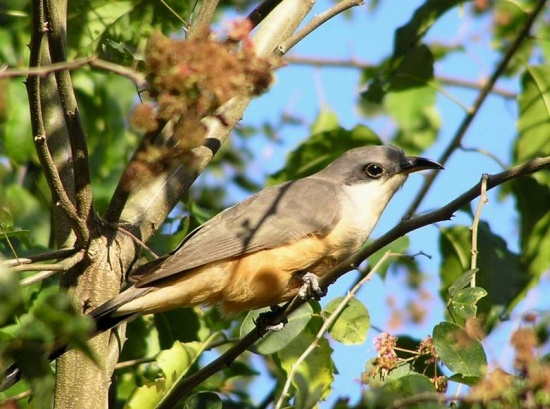 Identification
Grey upper head, brownish grey back and yellowish to golden-brown underside, lightest in the throat. Black mask from base of bill to behind the eye, yellow eyering. Feet and legs are black, slightly curved bill is black on upper and yellow on lower mandible. Upperside of tail is greyish, but the underside is striking with large white spots separated by smaller black markings.
Distribution
Found from Southern Florida to Northern Brazil both in Central America and in the Caribbean.
Taxonomy
Mangrove Cuckoo is a monotypic species1.
Habitat
Forests and scrubby woodland, edge, and mangroves. Seems more limited to swampy habitat in the USA and Mexico and more of a generalist in the Caribbean.
Behaviour
The song is a dark laughter-like sound that initially is accelerating. Often slow moving and quite inconspicuous unless singing.
References
Clements, JF. 2011. The Clements Checklist of Birds of the World. 6th ed., with updates to August 2011. Ithaca: Cornell Univ. Press. ISBN 978-0801445019. Spreadsheet available at http://www.birds.cornell.edu/clementschecklist/downloadable-clements-checklist
BF member personal observations
Recommended Citation
External Links