Pseudastur polionotus
Identification
47–51 cm
White head, masked appearance, ash grey cere and Lores (sometimes yellowish), pale grey bill with black tip, white underparts, grey and black upperparts, orange-yellow toes.
Juveniles are generally like adults but with dark streaks to crown and nape, yellowish on lore and cere.
In flight with broad and long wings rounded at ends and short tail. Tail is especially notable for lacking black subterminal band (often looking all white); one or more black subterminal bands are found on most confusing species. The wings have white coverts, flight feathers dusky except that secondaries and inner primaries have broad white tips.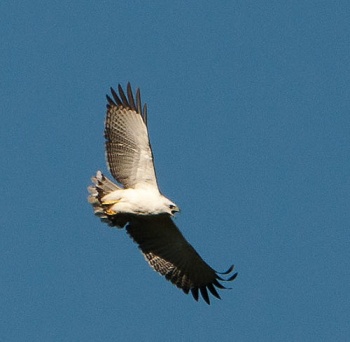 Distribution
South America: found in tropical forests from eastern Brazil to eastern Uruguay and eastern Paraguay.
Taxonomy
This is a monotypic species1.
Formerly placed in genus Leucopternis.
Habitat
Humid forest and mixed woodland
Behaviour
Diet
Their diet consists of reptiles such as snakes, lizards and geckos. They will also take some birds and small mammals like rock cavies.
Vocalisation
Call: a penetrating whistled weeeuw.
References
Gill, F and D Donsker (Eds). 2014. IOC World Bird Names (version 4.3). Available at http://www.worldbirdnames.org/.
Clements, J. F., T. S. Schulenberg, M. J. Iliff, D. Roberson, T. A. Fredericks, B. L. Sullivan, and C. L. Wood. 2014. The eBird/Clements checklist of birds of the world: Version 6.9., with updates to August 2014. Downloaded from http://www.birds.cornell.edu/clementschecklist/download/
Handbook of the Birds of the World Alive (retrieved December 2014)
Six page illustrated field identification of Mantled Hawk Neotropical Birdclub
Recommended Citation
External Links