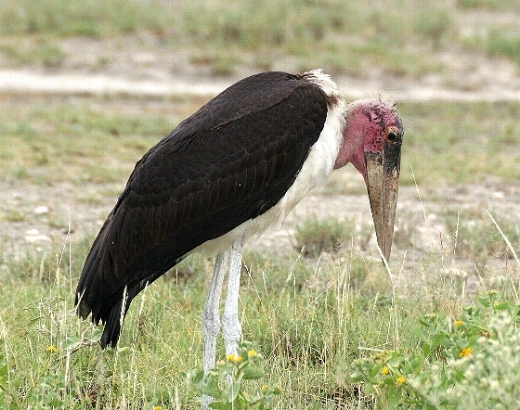 Leptoptilos crumeniferus
Identification
115–152 cm (45¼-60 in)

Bare head and neck
Black back
White underparts
Large bill
Pink throat sack
Neck ruff
Black legs and wings

The sexes are alike
Young birds are browner with a smaller bill. They take up to four years to fully mature.
Distribution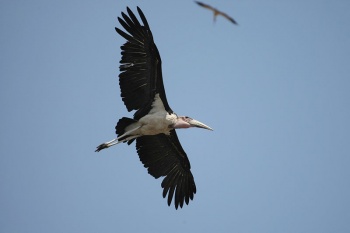 Sub-Saharan Africa .
Taxonomy
This is a monotypic species[1].
Habitat
Wet and arid habitats.
Behaviour
Breeding
It builds a tree nest in which 2-3 eggs are laid.
Diet
Diet includes different kinds of animals, either alive or as carrion, including small mammals, reptiles, and similar prey. Living prey includes termites, fish, locusts, grasshoppers, caterpillars, frogs, rodents, crocodile eggs and hatchlings, quelea nestlings, doves, young and adult flamingos, cormorant nestlings, and pelican chicks.
References
Clements, J. F., T. S. Schulenberg, M. J. Iliff, D. Roberson, T. A. Fredericks, B. L. Sullivan, and C. L. Wood. 2016. The eBird/Clements checklist of birds of the world: v2016, with updates to August 2016. Downloaded from http://www.birds.cornell.edu/clementschecklist/download/
Avian Web
Recommended Citation
External Links