Alternative name: Blackcap Bush Shrike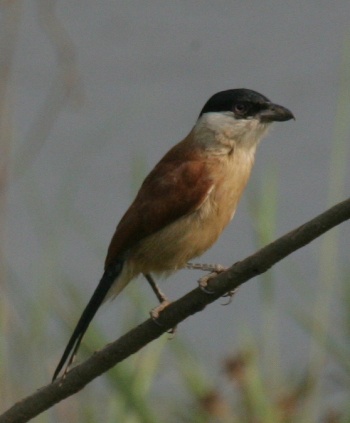 Bocagia minuta
Tchagra minutus[1]
Includes Anchieta's Tchagra
Identification
Length 15-19 cm. The bill is strong and hooked.
Adult male: Long tail, chestnut back and wings and creamy-buff underparts, and black cap.
Adult female: Similar to the male, but with a white supercilium.
Distribution
Sub-Saharan Africa
Taxonomy
The Marsh Tchagra is sometimes placed in the monotypic genus Antichromus or included in genus Tchagra with the other Tchagras.
Bocagia minutus has three subspecies:
B. m. reichenowi and B. m. anchietae are sometimes split as Anchieta's Tchagra; named after Portuguese explorer José Alberto de Oliveira Anchieta by his zoologist compatriot José Vicente Barbosa du Bocage in 1869.
Habitat
Rank grassland, bracken and sedges and shrubs associated with wetlands.
Behaviour
Diet includes large insects; forages near the ground in dense cover; sometimes hawks insects.
Breeding
Probably monogamous; territorial. The nest is a bulky, but neat cup of plant material and spider web, usually in a bush within a metre of the ground. One to three eggs are laid.
References
Clements, J. F., T. S. Schulenberg, M. J. Iliff, D. Roberson, T. A. Fredericks, B. L. Sullivan, and C. L. Wood. 2017. The eBird/Clements checklist of birds of the world: v2017, with updates to August 2017. Downloaded from http://www.birds.cornell.edu/clementschecklist/download/
Dickinson, EC, ed. 2003. The Howard and Moore Complete Checklist of the Birds of the World. 3rd ed., with updates to December 2007 (Corrigenda 7). Princeton: Princeton Univ. Press. ISBN 978-0691117010
Gill, F and D Donsker (Eds). 2010. IOC World Bird Names (version 2.7). Available at http://www.worldbirdnames.org/.
Recommended Citation
External Links