Alternative name: White-tailed Iora
Aegithina nigrolutea
Identification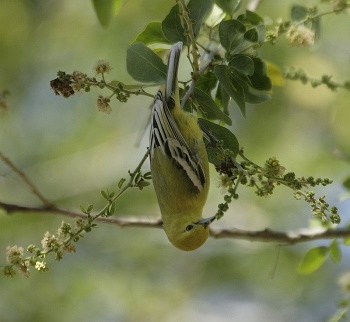 12-13cm.
Black crown and nape
Broad yellow collar with narrow black fringes
Black wings with broad white wing-bar and broad white edges on tertial centres
Black tail with broad white tip
Bright yellow underparts
Dark eye
Non-breeding males similar to females
Female
Pale yellow green head
Green mantle
Grey uppertail
Immatures like females
Similar species
Smaller than Common Iora which has an no pale tips on tail and a pale eye.
Distribution
Found in the plains of northern India south to Gujarat. Locally also in Tamil Nadu, one record from Sri Lanka. Possibly overlooked.
Locally common in northwest India, scarce in other parts of its range. Pakistan and India
Taxonomy
This is a monotypic species.
It is sometimes considered conspecific with Common Iora.
Habitat
Thorny acacia jungle, scrubby groves and gulleys. Occurs in lowlands and plains.
Behaviour
Feeds on insects and their larvae. Forages in pairs or alone, joins mixed-species flocks after breeding season.
Breeding season in June and July in Gujarat. The nest is a small, neat cup, placed low in a bush. Lays 2-3 eggs.
A resident species.
References
Clements, JF. 2011. The Clements Checklist of Birds of the World. 6th ed., with updates to August 2011. Ithaca: Cornell Univ. Press. ISBN 978-0801445019. Spreadsheet available at http://www.birds.cornell.edu/clementschecklist/downloadable-clements-checklist
Del Hoyo, J, A Elliot, and D Christie, eds. 2005. Handbook of the Birds of the World. Volume 10: Cuckoo-Shrikes to Thrushes. Barcelona: Lynx Edicions. ISBN 978-8487334726
Rasmussen, PC and JC Anderton. 2005. Birds of South Asia: The Ripley Guide. Barcelona: Lynx Edicions. ISBN 978-8487334672
Recommended Citation
External Links