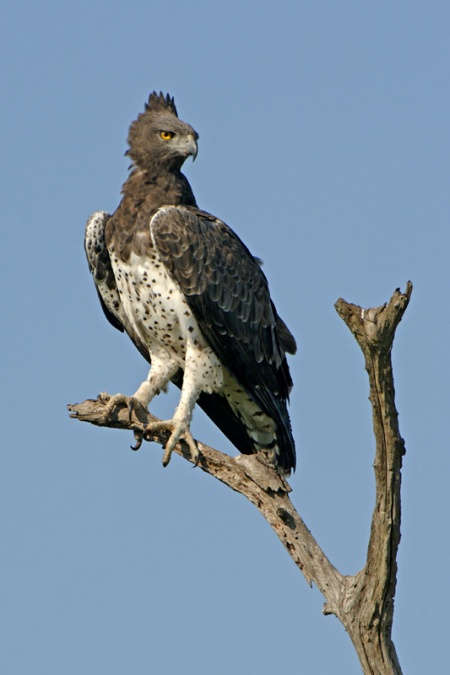 Polemaetus bellicosus
Identification
Length 78-83 cm, mass 3-6 kg; a huge eagle.
Adult is mostly dark brown, but underside of the body from upper breast to vent is pale with dark spots. In flight, the underside of the body contrasts to both the head/throat and to underside of wings which also are dark brown.
Juvenile has head and breast pale, but white feathering on legs and flight feathers with many dark bands separate this from juvenile Crowned Hawk-Eagle.
Distribution
Sub-Saharan Africa: occurs from Senegal east to Ethiopia and north-west Somalia and south to the Cape.
Absent from the heavily-forested areas of Central Africa and scarce to rare in much of West African range.
Resident with some wandering of immatures.
Taxonomy
This is a monotypic species[1].
Habitat
Savanna, thornbush, open woodland and forest edge.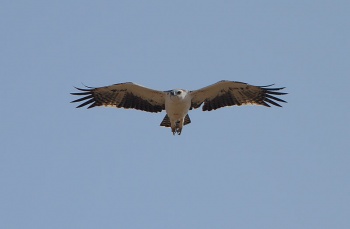 Behaviour
Diet
They hunt various prey including francolins, guinea fowl, monkeys and even small antelope such as Dik-dik.
References
Clements, J. F., T. S. Schulenberg, M. J. Iliff, D. Roberson, T. A. Fredericks, B. L. Sullivan, and C. L. Wood. 2016. The eBird/Clements checklist of birds of the world: v2016, with updates to August 2016. Downloaded from http://www.birds.cornell.edu/clementschecklist/download/
BF Member observations
Recommended Citation
External Links