This article is incomplete.
This article is missing one or more sections. You can help the BirdForum Opus by expanding it.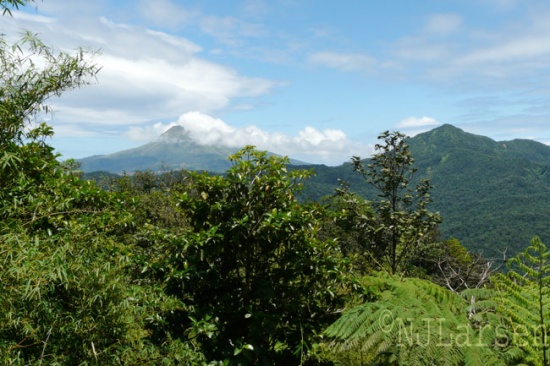 Overview
Martinique is an island in the Lesser Antilles. It has status as a department in France. Martinique is one of the younger islands in the Lesser Antilles, but it is still considerably older and therefore more eroded than Dominica. A population of 400,000 people live on the island, which is much more highly developed than for example the nearest neighbour, Dominica.
Birds
Notable Species
Martinique Oriole is the only endemic species, while Blue-headed Hummingbird, White-breasted Thrasher, and Grey Trembler are each found on Martinique and one additional island. The local subspecies (Dendroica petechia ruficapilla) of Yellow Warbler has a rusty head and looks quite different from the subspecies on the nearest islands.
Rarities
"to do"
Check-list
Birds you can see here include:
Pied-billed Grebe, Red-billed Tropicbird, Red-footed Booby, Brown Booby, Magnificent Frigatebird, Great Blue Heron, Great Egret, Little Blue Heron, Snowy Egret, Cattle Egret, Green Heron, Yellow-crowned Night-Heron, Osprey, Broad-winged Hawk, American Kestrel, Merlin, Common Gallinule, Semipalmated Plover, Short-billed Dowitcher, Spotted Sandpiper, Semipalmated Sandpiper, Pomarine Jaeger, Laughing Gull, Royal Tern, Roseate Tern, Brown Noddy, Scaly-naped Pigeon, Eurasian Collared Dove, Zenaida Dove, Common Ground-Dove, Ruddy Quail-Dove, Mangrove Cuckoo, Smooth-billed Ani, Black Swift, Lesser Antillean Swift, Purple-throated Carib, Green-throated Carib, Antillean Crested Hummingbird, Blue-headed Hummingbird, Caribbean Elaenia, Lesser Antillean Pewee, Lesser Antillean Flycatcher, Gray Kingbird, Caribbean Martin, Barn Swallow, Tropical Mockingbird, Grey Trembler, Scaly-breasted Thrasher, Pearly-eyed Thrasher, White-breasted Thrasher, Rufous-throated Solitaire, American Bare-eyed Thrush, Black-whiskered Vireo, Yellow Warbler, Bananaquit, Antillean Euphonia, Black-faced Grassquit, Lesser Antillean Bullfinch, Lesser Antillean Saltator, House Sparrow, Carib Grackle, Shiny Cowbird, Martinique Oriole, Village Weaver
The above list is meant to exclude vagrants, but may still be incomplete regarding especially more common visitors.
Other Wildlife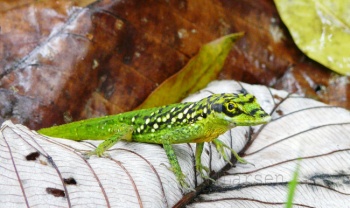 Mongoose is a relatively common species thanks to man's intervention. A species of opossum locally called Manicou is relatively common.
Among reptiles, the anole Anolis roquet is quite noticable, most often with green colors. The poisonous snake "fer-de-lance" should be present but rare and nocturnal.
Site Information
History and Use
"to do"
Areas of Interest
The montane area north of Fort-de-France known as Pitons du Carbet and the La Caravelle Peninsula are the most well known areas for birding. Blue-headed Hummingbird and Grey Trembler are best seen in the first of these, while La Caravelle is reputed as the easiest place to see White-breasted Thrasher. Martinique Oriole is found in forest in many parts of the island, but best in the wet forest north of Fort de France or in the drier forest south of FdF; it is no longer very common in the La Caravelle area.
Access and Facilities
Martinique has an international airport capable of receiving Transatlantic traffic. A ferry connects the island to Guadeloupe, Dominica, and St. Lucia.
Contact Details
"to do"
External Links
Martinique Visitor Information
Recommended Citation