Alaudala rufescens
Calandrella rufescens
Identification
Dark-streaked greyish-brown above, and white below. It has a pale supercilium, and a short stubby bill. At least in the Iberian Peninsula, the distinct breast streaking contrasts sharply with the white lower breast (like Pectoral Sandpiper).
Distribution
Iberian Peninsula, Canary Islands, north Africa, Middle East.
Taxonomy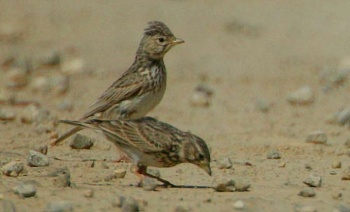 This species was formerly included in Lesser Short-toed Lark sensu lato.
Subspecies
Three subspecies are recognized[1]:
Canary Islands (Tenerife, where perhaps extirpated, Gran Canaria, Fuerteventura and Lanzarote)
Habitat
Dry open country, preferring dry and bare soils.
Behaviour
It nests on the ground, laying 2-3 eggs.
Diet includes seeds and insects, the latter especially in the breeding season.
References
Clements, J. F., T. S. Schulenberg, M. J. Iliff, S. M. Billerman, T. A. Fredericks, J. A. Gerbracht, D. Lepage, B. L. Sullivan, and C. L. Wood. 2021. The eBird/Clements checklist of Birds of the World: v2021. Downloaded from https://www.birds.cornell.edu/clementschecklist/download/
Birdforum thread discussing the id of this species
Recommended Citation
External Links
GSearch checked for 2020 platform.