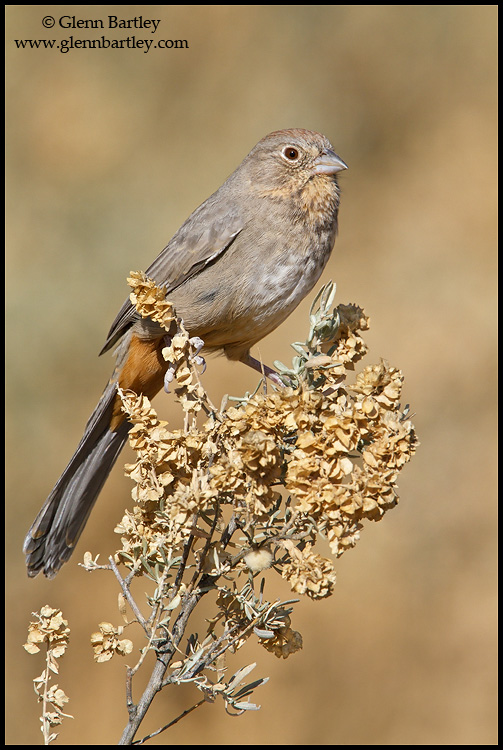 Melozone fusca
Pipilo fusca
Identification
20–25 cm
Brown upperparts, lighter underparts, dark head, rufous cap, reddish under tail, long tail.
Sexes similar
Similar Species
Paler, grayer, and shows more contrast than the California Towhee.
Distribution
Southwestern United States and northern Mexico.
Taxonomy
Formerly considered conspecific with the California Towhee under the name Brown Towhee.
Subspecies
mesoleucum has a much darker brown cap than texanus There are 10 subspecies[1]:
Two additional subspecies aimophilus and relictus are generally considered invalid[2].
This species was formerly placed in the genus Pipilo
Habitat
Brush or chaparral.
Behaviour
Diet
The diet includes insects.
References
Clements, JF. 2011. The Clements Checklist of Birds of the World. 6th ed., with updates to August 2011. Ithaca: Cornell Univ. Press. ISBN 978-0801445019. Spreadsheet available at http://www.birds.cornell.edu/clementschecklist/downloadable-clements-checklist
Avibase
BF Member observations
Recommended Citation
External Links
GSearch checked for 2020 platform.