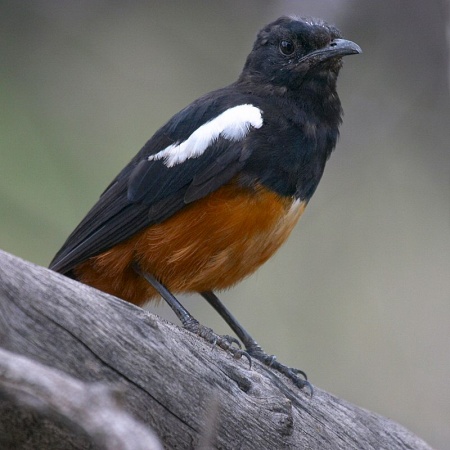 Includes White-crowned Cliff Chat
Identification
Length 19–21 cm (7½ in); mass 46-51 g.
Adult male:
Glossy black overall plumage
Rufous rump and belly
White carpal (wrist) patch
Dark brown eye
Black bill, legs and feet

Adult female:
Slaty black (where male glossy black)
Deep chestnut (where male rufous)
Lacks white patch on wing

Immature: Similar to adults, but duller.
Distribution
Africa south of the Sahara.
Taxonomy
Subspecies
8 subspecies accepted.
T. c. coronata is sometimes split as full species, White-crowned Cliff Chat.
Habitat
Areas with a mixture of rocks and trees.
Behaviour
Diet
Their mixed diet consists of figs, insects (including flying ants), spiders; also aloe nectar.
References
Clements, J. F., T. S. Schulenberg, M. J. Iliff, D. Roberson, T. A. Fredericks, B. L. Sullivan, and C. L. Wood. 2017. The eBird/Clements checklist of birds of the world: v2017, with updates to August 2017. Downloaded from http://www.birds.cornell.edu/clementschecklist/download/
Handbook of the Birds of the World Alive (retrieved August 2017)
Recommended Citation
External Links