Accipiter henicogrammus
Identification
37-48 cm. A medium-sized to largish Accipiter with a rather heavy bill.
Dark slate upperparts
Rufous underparts
Inconspicuous dark tailbands
Yellow bare parts
Juveniles are strongly barred with a white-streaked head, white bars over back and wing-coverts and greener and paler bare parts.
Similar species
Can be confused with Rufous-necked Sparrowhawk which is smaller, shorter-tailed, has a rufous collar and a whiter throat and a greyish belly. The local subspecies of Variable Goshawk is paler above, can have a rufous collar and is paler below with less white barring.
Distribution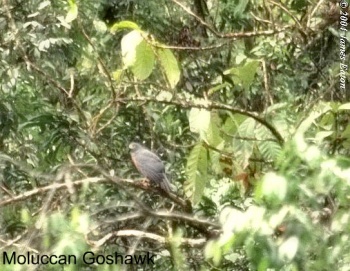 Endemic to the northern Moluccas, found on Halmahera, Morotai and Bacan (Indonesia).
An uncommon restricted-range species. Threatened by habitat loss.
Taxonomy
This is a monotypic species.
Sometimes regarded as conspecific with Brown Goshawk or Grey Goshawk.
Habitat
Moist lowland forests and moist montanes. Occurs from sea level up to 1300 m.
Behaviour
Diet
Feeds on reptiles, small birds, small mammals and insects. Sits for a long time inconspicuous on a perch and surprises its prey with a quick dash.
Breeding
Nest with youngs observed in mid October on Halmahera. No other information available.
Movements
Presumably a sedentary species.
References
Clements, J. F., T. S. Schulenberg, M. J. Iliff, D. Roberson, T. A. Fredericks, B. L. Sullivan, and C. L. Wood. 2014. The eBird/Clements checklist of birds of the world: Version 6.9., with updates to August 2014. Downloaded from http://www.birds.cornell.edu/clementschecklist/download/
Gill, F and D Donsker (Eds). 2014. IOC World Bird Names (version 4.4). Available at http://www.worldbirdnames.org/.
Handbook of the Birds of the World Alive (retrieved November 2014)
Recommended Citation
External Links