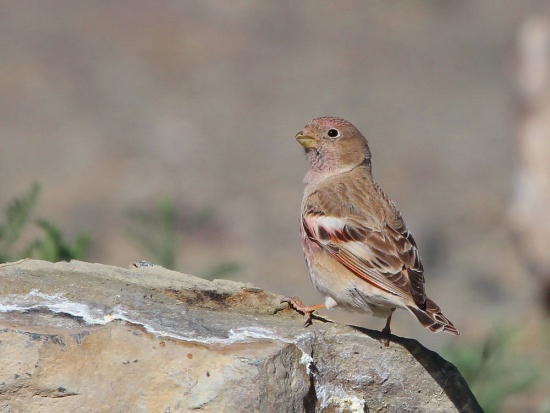 Bucanetes mongolicus
Rhodopechys mongolica
Identification
14–15 cm (5½-6 in)
Large head
Short, thick greyish-yellow bill

Breeding male
Pink flush to face and underparts
Extensive white and pink areas in the wings
Distribution
Africa, Middle East and Asia
Northern Africa: found only in Egypt
Middle East: Turkey, Iran, Armenia, Azerbaijan and Georgia
Asia: Russia, Siberia, Kazakhstan, Uzbekistan, Turkmenistan, Tajikistan, Afghanistan, Mongolia, China, Tibet, Pakistan, India and Western Himalayas
Taxonomy
This is a monotypic species[1].
Previously included in the genus Rhodopechys and placed in Eremopsaltria by some authorities.
Habitat
Areas of sparse mountainous vegetation, stony desert or semi-arid scrub and rocky slopes.
Behaviour
Diet
Their main diet consists of small seeds, with the addition of buds and shoots at times.
Breeding
They are solitary nesters, though sometimes form loose colonies.
References
Clements, J. F., T. S. Schulenberg, M. J. Iliff, D. Roberson, T. A. Fredericks, B. L. Sullivan, and C. L. Wood. 2016. The eBird/Clements checklist of birds of the world: v2016, with updates to August 2016. Downloaded from http://www.birds.cornell.edu/clementschecklist/download/
Avibase
Handbook of the Birds of the World Alive (retrieved February 2017)
Wikipedia
The Website of Everything
Recommended Citation
External Links