Strix ocellata
Identification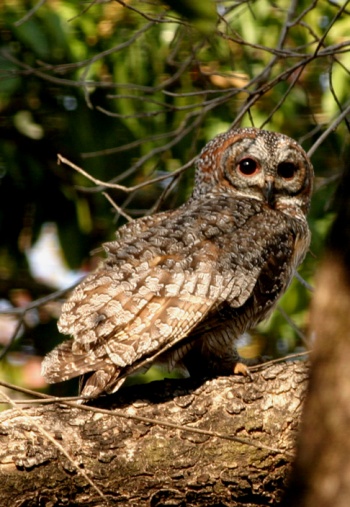 41–48 cm (16¼-19 in)
A large, earless owl with a white facial disk with concentric black barring and splashes of rufous. Mottled crown and white throat-patch. Upperparts grey, mottled and vermiculated with reddish-brown, black, white and buff.
Northern subspecies grisecens larger.
Similar Species
Told from Brown Wood-Owl Strix leptogrammica by facial disk and mottled crown.
Distribution
South Asia. Mainly in India from Jammu to the Ganges plains, Gujarat and in most of the Peninsula. Formerly also in Pakistan but no recent records. May occur also in Burma, further investigation needed. Locally common.
Taxonomy
Three subspecies regognized[1]:
West India (Kathiawar Peninsula of southern Gujarat)
Habitat
Gardens and thin deciduous forests. Likes mango trees, tamarind and banyans.
Behaviour
Nocturnal, roosting in pairs or small groups by day.
Diet
Feeds on small birds and mammals.
Breeding
Breeding time is from February to April. The nest is usually in tree holes. Lays 2 eggs.
References
Clements, J. F., T. S. Schulenberg, M. J. Iliff, D. Roberson, T. A. Fredericks, B. L. Sullivan, and C. L. Wood. 2017. The eBird/Clements checklist of birds of the world: v2017, with updates to August 2017. Downloaded from http://www.birds.cornell.edu/clementschecklist/download/
Recommended Citation
External Links