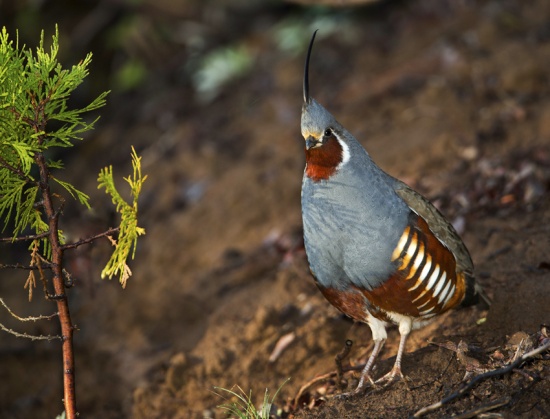 Oreortyx pictus
Identification
26–28 cm

Brown face
Grey breast
Brown back and primaries
White barred underparts
Though this species is 'monomorphic' the male has a slightly cooler value to the gray plumage, whereas the female tends to be slightly warmer.
Distribution
North and Central America:
North America: in Canada found in British Columbia and on Vancouver Island
United States: California, Idaho, Washington, Nevada, Oregon
Central America: occurs only in Mexico
Taxonomy
Subspecies
Clements treats this species as monotypic, Gill and Donsker recognize 5 subspecies:
Habitat
Mountainous chapparal areas and mixed evergreen forests.
Behaviour
Diet
Their diet consists mostly of plant matter and seeds, bulbs, fruit and flowers. The chicks are fed insects then gradually consume more plant matter as they mature.
Breeding
The clutch consists of 9-10 eggs which are laid in a scrape which is concealed by vegetation, usually at the base of a tree or under a shrub, normally close to water. The eggs are incubated for 21-25 days by the female.
References
Clements, J. F., T. S. Schulenberg, M. J. Iliff, D. Roberson, T. A. Fredericks, B. L. Sullivan, and C. L. Wood. 2014. The eBird/Clements checklist of birds of the world: Version 6.9., with updates to August 2014. Downloaded from http://www.birds.cornell.edu/clementschecklist/download/
Gill, F and D Donsker (Eds). 2014. IOC World Bird Names (version 4.3). Available at http://www.worldbirdnames.org/.
Avibase
Handbook of the Birds of the World Alive (retrieved July 2014)
AvianWeb
BF Member observations
Recommended Citation
External Links