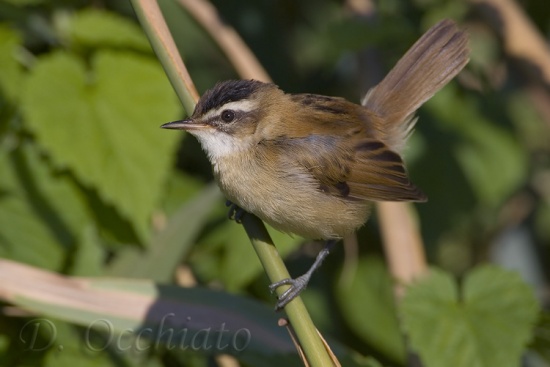 Acrocephalus melanopogon
Identification
12-13.5 cm
Streaked brown back and white underparts. Black crown. The forehead is flattened, there is a prominent whitish supercilium, grey ear coverts, and the bill is strong and pointed. Short rounded tail is often cocked
Sexes alike
Young birds have spots on the breast and a creamy central crown stripe
Distribution
Southern Europe and southern temperate Asia with a few in north-west Africa.
Taxonomy
Subspecies[1]
Russia (eastern coast of Sea of Azov to lower Don River)
Habitat
Upright aquatic vegetation such as reeds and sedge.
Behaviour
Breeding
Breeding starts from mid-April. A clutch of three to six eggs are laid and incubated for 14-15 days. Builds an untidy nest in low dense vegetation
Diet
Diet includes insects and water snails.
Vocalisation
Listen in an external program Listen in an external program
References
Clements, JF. 2008. The Clements Checklist of Birds of the World. 6th ed., with updates to December 2008. Ithaca: Cornell Univ. Press. ISBN 978-0801445019.
Wikipedia
Collins Field Guide 5th Edition
Recommended Citation
External Links