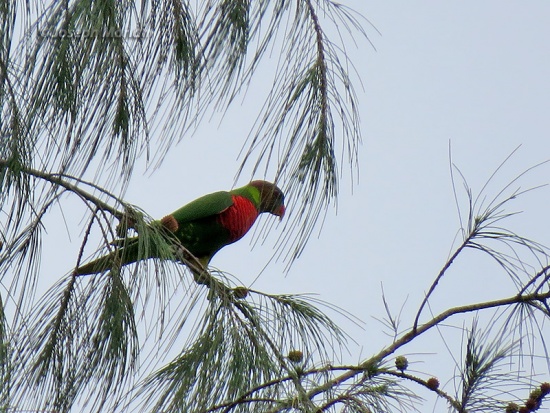 Trichoglossus haematodus
Includes: Biak Lorikeet
Identification
25–30 cm (9¾-11¾ in)
Medium sized green, red, yellow and blue lorikeet with a long pointed tail. The sexes are alike. Immature is duller with dark bill.
Similar Species
Rainbow Lorikeet: the two differ in the color of the belly with Coconut having the belly green while Rainbow has the belly dark blue. Also Coconut usually has more dark barring on its chest.
Distribution
Ranges from the Moluccas (Indonesia) to New Guinea and adjacent islands.
Taxonomy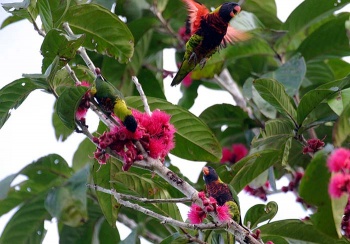 Recently split from Rainbow Lorikeet. Gill and Donsker further split rosenbergii from Biak as Biak Lorikeet[5]
Subspecies
Ten subspecies are currently recognized[1]:
T. h. rosenbergii: Biak Island (off northern New Guinea)
T. h. intermedius: Northern New Guinea (Sepik River to Astrolabe Bay) and Manam Island
T. h. haematodus: Southern Moluccas, western Papuan islands and western New Guinea
T. h. nigrogularis: Eastern Kai Islands, Aru Islands and southern New Guinea
T. h. brooki: Known from two cage birds from Trangan Island (Aru Islands)
T. h. nesophilus: Admiralty Islands (Ninigo and Hermit groups)
T. h. flavicans: New Hanover and Admiralty Islands
T. h. massena: Bismarck Archipelago, Solomon Islands and Vanuatu
T. h. micropteryx: New Guinea east of Huon Peninsula; Kimuta and adjacent islands
T. h. deplanchii: New Caledonia and Loyalty Islands
Habitat
Most common in lowland and hill forests with flowering trees. Also open country with scattered trees, gardens, coconuts. Uncommon in montane forests.
Behaviour
Usually in pairs or flocks. Mixes with other lorikeet species at flowers but flies in separate flocks.
Breeding
Breeds throughout the year. Clutch of 2 to 3 white eggs are laid in a tree cavity high above the ground.
References
Clements, J. F., T. S. Schulenberg, M. J. Iliff, S. M. Billerman, T. A. Fredericks, B. L. Sullivan, and C. L. Wood. 2019. The eBird/Clements Checklist of Birds of the World: v2019. Downloaded from http://www.birds.cornell.edu/clementschecklist/download/
Braun, M.P. et al. (2017). Influences of oceanic islands and the Pleistocene on the biogeography and evolution of two groups of Australasian parrots (Aves: Psittaciformes: Eclectus roratus, Trichoglossus haematodus complex). Rapid evolution and implications for taxonomy and conservation". European Journal of Ecology. 3 (2): 47ñ66. doi:10.1515/eje-2017-0014.
Collar, N., Christie, D.A. & Kirwan, G.M. (2019). Coconut Lorikeet (Trichoglossus haematodus). In: del Hoyo, J., Elliott, A., Sargatal, J., Christie, D.A. & de Juana, E. (eds.). Handbook of the Birds of the World Alive. Lynx Edicions, Barcelona. (retrieved from https://www.hbw.com/node/54440 on 28 November 2019).
Dutson, G. (2011) Birds of Melanesia, Christopher Helm, London.
Gill, F & D Donsker (Eds). 2019. IOC World Bird List (v9.2). doi : 10.14344/IOC.ML.9.2. Available at http://www.worldbirdnames.org/
Gregory, P. (2017) Birds of New Guinea, Including Bismarck Archipelago and Boughainville. Lynx Edicions, Barcelona.
Juniper, T. & Parr, M. (1998) Parrots: A Guide to Parrots of the World. Yale Univ. Press, New Haven and London.
Schodde, R. & Mason, I.J. (1997) Aves (Columbidae to Coraciidae). In: Houston, W.W.K. & Wells, A. eds. (1997). Zoological Catalogue of Australia. Vol. 37(2). CSIRO Publishing, Melbourne.
Recommended Citation
External Links